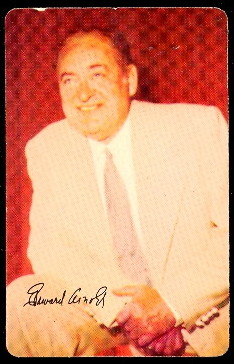 The 1953 Mother's Cookies Television and Radio Stars set contains many of the top actors and actresses of the early 1950's. The set contains 63 cards and includes such stars as Groucho Marx, Ozzie Nelson, Ricky Nelson, Natalie Wood, Lawrence Welk, and football star Tom Harmon. The cards feature full color photographs on the fronts with facsimile autographs. The backs have statistics and an adversitement for the television or radio show along with a mail-in offer for a larger photograph. These cards came in packages of Mother's Cookies in the early 1950's and measure approximately 2-1/4" x 3-1/2" in size.



WE ARE BUYING BUYING BUYING!!

IMPORTANT INFORMATION ABOUT ORDERING, AND FAQ


RETURN TO THE NON-SPORTS PAGE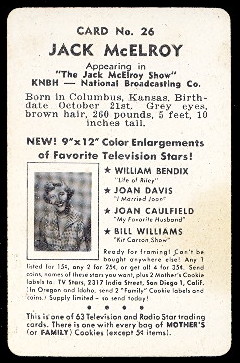 .