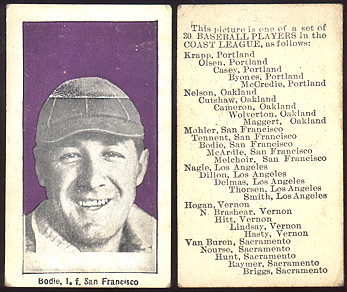 1910 BISHOP & CO. P.C.L. (E99) BASEBALL CARDS AND 1911 BISHOP & CO. P.C.L. (E100) BASEBALL CARDS
This obscure pcl issue was of six teams from the pacific coast league issued in 1910 & 1911. also in 1910 was an issue of team cards which we are also interested in. Each set has 30 players from the six teams and they are available with different color backgrounds.
The teams are: portland beavers, oakland oaks, san francisco seals, vernon tigers, los angeles angeles, sacramento salons
Cards measure 1-1/2" X 2-3/4".


We are interested in buying any BISHOP & CO. P.C.L. cards.





RETURN TO OUR BUYING PAGE
Return to the Main Page