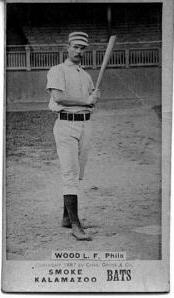 This set was issued circa 1887 by Charles Gross & Co. in Philadelphia. The sepia colored cards are slightly larger at 2-1/4" X 4" and are on heavy cardboard. They can be found with blank backs or with advertising on the backs.
Cards measure 2-1/4" X 4".


We are interested in buying any Kalamazoo Bats, Old Judge and or Gypsy Queen cards or cabinets.





RETURN TO OUR BUYING PAGE
Return to the Main Page