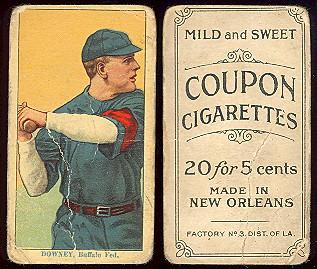 1910-1919 Coupon Cigarettes (T213) baseball cards
These cards were issued from 1910 to 1919 by Coupon Cigarettes. The first issue was in 1910 and features 68 cards. The backs have an ad for Coupon mild cigarettes. The first series cards are printed on very thin stock. The second series was printed from 1914-1916 and the backs have an ad for Coupon cigarettes 20 for 5 cents. The third series of Coupon cigarette cards was issued in 1919 and contains 70 cards. The backs show an ad for Coupon cigarettes, 16 for 10 cents. These cards are similiar to the T206 tobacco cards and feature many of the same players and poses. Coupon cards were issued in Louisiana.
Cards measure: 1-1/2" X 2-5/8"


We are interested in buying any 1910-1919 Coupon Cigarettes baseball cards.





RETURN TO OUR BUYING PAGE
Return to the Main Page