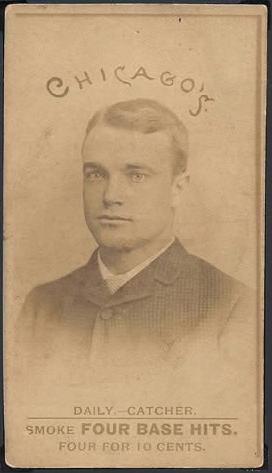 1887 Four Base Hits
1887 Four Base Hits, possibly issued by Charles Gross & Co. because they are similar to Kalamazoo Bats or possibly issued by August Beck & Co., producer of the Yum Yum cards. The Four Base Hits cards feature sepia tone photos with the players name and position below the picture, and the words "Smoke Four Base Hits. Four For 10 Cents". the set includes popular players of the day such as: John Clarkson, tido Daily, Pat Deasley, Mike Dorgan, Buck Ewing, Pete Gillespie, Frank Hankinson, King Kelly, Al Mays, Jim Mutrie, Chief Roseman, Marty Sullivan, Rip Van Haltran, John Ward, and Mickey Welch.

Cards measure 2-1/4"X3-7/8".


We are interested in buying any Four Base Hits cards.





RETURN TO OUR BUYING PAGE
Return to the Main Page