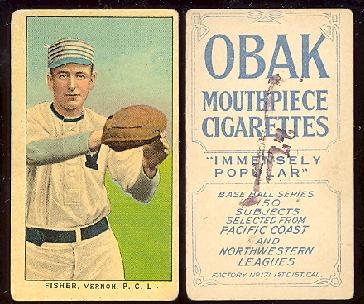 1909-1911 Obak Cigarettes (T212) baseball cards
These cards were issued from 1909 to 1911 by Obak Mouthpiece Cigarettes. The first issue was in 1909 and features 76 cards. The second series was printed in 1910 and the third series is from 1911. These cards were distributed by the California branch of the American Tobacco Company and feature players from the Pacific Coast League (PCL).
Cards measure: 1-1/2" X 2-5/8"


We are interested in buying any 1909-1911 Obak Cigarettes baseball cards.





RETURN TO OUR BUYING PAGE
Return to the Main Page