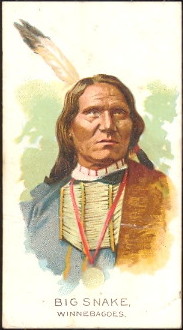 N2 American Indian Chiefs
SOLD

Offered here is a complete set of the N2 American Indian Chiefs.
This set has a psa gpa of 4.41. However, many of the lower grade cards, the "2"s & "2.5"s have miniscule spots on the back where a single letter may be missing or scratched or slight evidence of an adhesive, but the front looks near mint. There are no cards in this collection that look like dogs.
We are listing all of the grades below as well as a few of the images including some of the lower grade cards so that you can see them.

Additional images can be requested if you think you are interested in the set.
Allen & Ginters N2 American Indian Chiefs. Issued around 1888, The cards measure 1-1/2" X 2-3/4" and there are 50 in the series.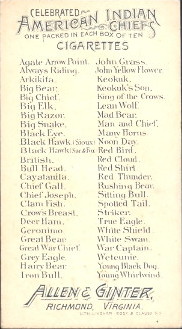 Return to Main page