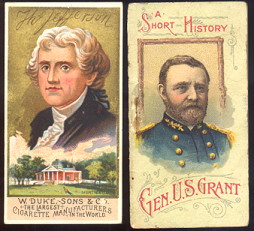 19TH CENTURY NON-SPORTS CARDS, 1880's Thru 1900

We have updated our Non-Sports section breaking down our lists into a lot of new searchable databases.
Between the 1880's through 1965 we have over 3,000 non-sports cards listed and still have many 20th century cards that are in lists on the 20th century page. We are still adding some of those.

You will find thumbnail image links to most of the cards we have listed here. Please feel free to call with any questions and REMEMBER, WE ARE ALSO BUYING, so, if you have extra cards, let us know.