CARD PRICES and IMAGES!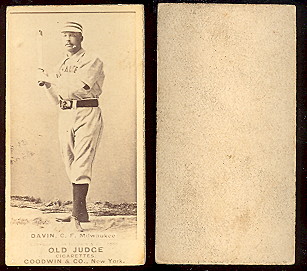 IMAGES of the INDIANAPOLIS FIND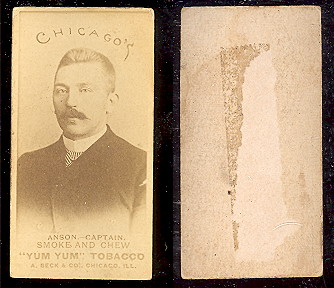 Old Judge Card Pricing

Ed Delahanty and Capt Anson,
use these link to check the images.
You can also take a look at the N173 Anson Cabinet



WE ARE BUYING BUYING BUYING!!

IMPORTANT INFORMATION ABOUT ORDERING, AND FAQ


DAVE'S VINTAGE BASEBALL CARDS PRESENTS

19TH CENTURY BASEBALL CARDS: THE OLD JUDGE SECTION!

This is the recently renovated Old Judge section. We have decided to make these cards available to the public. As many of you know, I have had some Old Judge cards up for display only. You now have a place where you can go and shop for some of the rarest, and most sought after baseball cards ever made!
There are close to 300 cards available here, and you will be hard pressed to find another location where you have this kind of selection!
This is one of the most fascinating of all card sets, as the number of cards issued will probably never be finally determined. These cards were issued by the Goodwin & Co. tobacco firm in their Old Judge and to a lesser extent Gypsy Queen cigarettes. Players from more than 40 major and minor league teams are pictured on these approximately 1-7/16" X 2-1/2" cards, (as you see in the scans, they vary quite a bit in size) with some 518 different players known to exist. Up to 17 different pose and team variations exist for some players, and the cards were issued both with and without dates on the card fronts, numbered and unnumbered, and with both handwritten and machine printed names. Known variations number in the thousands. The cards themselves are sepia-toned photgraphs pasted onto thick cardboard. They are blank-backed. The N172 listings are based on the recordings in The Cartophilic Society's (of Great Britain) World Index, Part IV, complied by E.C. Wharton-Tigar.

Some of the cards in this section are graded, and you will see a (sgc **) whatever the grade is on the image.

How to use this section.
You will see pictures of all of the cards available, in most cases in alphabetical runs, with Names, and catalogue numbers.
For example Anson 11-1b.
This would be the designated catalogue number for this card.
There are close to 300 cards available currently, so there are many pages of images with card information, with links to all of the pages, and the price list.
Prices and availability will be seen on the complete list of these, as each card variation is listed with price and condition information.
These cards are not easy to find, and in most cases, posted prices will stand.
We may be willing to make trades.
We are always interested in buying more collections, large or small.
Price and availability are subject to change, however, the complete listing of these cards is very up to date.
From time to time, we do run auctions up on ebay you can always take a look, user id is: gfgcom
GO TO THE TOBACCO PAGE

Now you can check out our GYPSY QUEEN N162s and N173 CABINETS