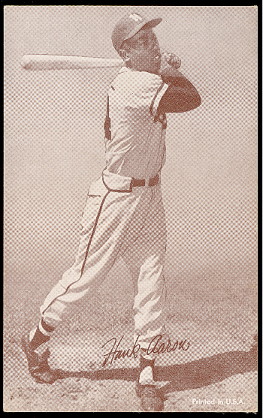 1963 STAT BACK EXHIBIT CARDS



DAVE'S VINTAGE BASEBALL CARDS PRESENTS 1963 EXHIBITS.

The Exhibit Supply Company of Chicago started to issue cards in 1921. They continued to issue cards through 1980. There are a lot of different styles, and some of the cards are quite rare and scarce. The cards are post card size, 3-3/8" X 5-3/8".
On this page you will find the stat back cards from 1963.

1921 Exhibits, 1922-1928 Exhibits, 1929-30 Four on One Exhibits,
1931-32 Four on One Exhibits, 1937-38 Four on One Exhibits, 1939 and 1947 Exhibits,
1948 Exhibits, 1953 Canadian, 1962 Stat backs, 1963 stat backs





WE ARE BUYING BUYING BUYING!!

IMPORTANT INFORMATION ABOUT ORDERING, AND FAQ





ALSO VISIT OUR FOOTBALL EXHIBIT CARDS OUR BOXING EXHIBIT CARDS, OUR HOCKEY EXHIBIT CARDS, AND RETURN TO PRE-WAR CARDS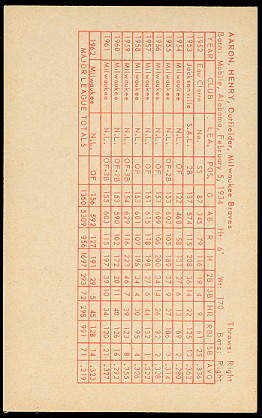 To order, click on the price of the card you want. Select quantity when you go to the shopping cart. The shopping cart now works for AOL users!
#
Description
Conditions

---

5
Steve Barber
(Baltimore Orioles)

NM/Mint
NM
EXMT
EX
VGEX
VG
Good
Fair/Poor
--
--
1 in stock
$10.50/each
--
--
--
--
--

---

12
Orlando Cepeda
(San Francisco Giants)

NM/Mint
NM
EXMT
EX
VGEX
VG
Good
Fair/Poor
--
--
1 in stock
$18.00/each
--
--
--
--
--

---

19
joe cunningham
(Chicago White Sox)

NM/Mint
NM
EXMT
EX
VGEX
VG
Good
Fair/Poor
--
--
2 in stock
$9.00/each
--
--
--
--
--

---

24
Tito Francona
(Cleveland Indians)

NM/Mint
NM
EXMT
EX
VGEX
VG
Good
Fair/Poor
--
--
--
--
1 in stock
$4.80/each
--
--
--

---

25
jim gentile
(Baltimore Orioles)

NM/Mint
NM
EXMT
EX
VGEX
VG
Good
Fair/Poor
--
--
--
1 in stock
$7.00/each
--
--
--
--

---

25o
jim gentile - orange tint
(Baltimore Orioles)

NM/Mint
NM
EXMT
EX
VGEX
VG
Good
Fair/Poor
--
--
--
1 in stock
$10.00/each
--
--
--
--

---

28
Ray Herbert
(Chicago White Sox)

NM/Mint
NM
EXMT
EX
VGEX
VG
Good
Fair/Poor
--
--
--
1 in stock
$6.00/each
1 in stock
$4.80/each
--
--
--

---

38
Jim Landis
(Chicago White Sox)

NM/Mint
NM
EXMT
EX
VGEX
VG
Good
Fair/Poor
--
--
--
1 in stock
$6.00/each
--
--
--
--

---

39
Art Mahaffey
(Philadelphia Phillies)

NM/Mint
NM
EXMT
EX
VGEX
VG
Good
Fair/Poor
--
--
--
1 in stock
$6.00/each
--
--
--
--

---

40
Frank Malzone
(Boston Red Sox)

NM/Mint
NM
EXMT
EX
VGEX
VG
Good
Fair/Poor
--
--
--
--
--
1 in stock
$4.50/each
--
--

---

45
Bill Mazeroski
(Pittsburgh Pirates)

NM/Mint
NM
EXMT
EX
VGEX
VG
Good
Fair/Poor
--
--
--
1 in stock
$30.00/each
--
--
--
--

---

46
Ken McBride
(Los Angeles Angels)

NM/Mint
NM
EXMT
EX
VGEX
VG
Good
Fair/Poor
--
--
1 in stock
$9.00/each
1 in stock
$6.00/each
--
--
--
--

---

59o
Norm Siebern - orange tint
(Kansas City Athletics)

NM/Mint
NM
EXMT
EX
VGEX
VG
Good
Fair/Poor
--
--
--
1 in stock
$9.00/each
--
1 in stock
$5.40/each
--
--

---

62
Leon Wagner
(Los Angeles Angels)

NM/Mint
NM
EXMT
EX
VGEX
VG
Good
Fair/Poor
--
--
1 in stock
$9.00/each
--
--
1 in stock
$3.60/each
--
--