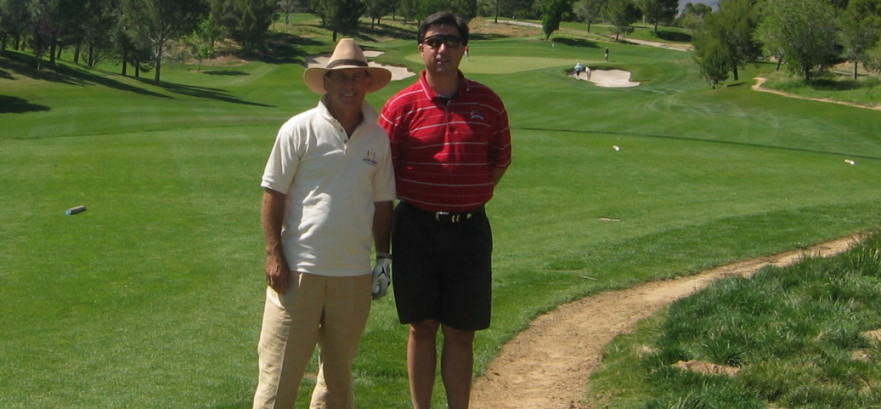 My buddy Dave and I golfing in Las Vegas 2005.                 Go to my search engine!
HAVE A COLLECTION TO SELL? were ALWAYS BUYING!! Call about your collection: 310 471 1959 or email at: gfg@gfg.com
SHORTCUTS TO OUR MORE POPULAR PAGES. SPECIAL: 15% OFF ALL ORDERS OVER $25 UNTIL FURTHER NOTICE!
Get an additional 5% off if you pay with Bitcoin, Etherum, or litecoin. Leave a comment at the checkout!
This is where you will find out a little bit about Dave
my goals, this site
and my business!


Return to the main directory here!


Hi,
I am Dave, and I am your host at Dave's Vintage Baseball Cards.  First, let me thank you for
taking the time to stop by.  Now, let me tell you a little about myself, and the site. I 
Started dealing in baseball cards in the mid to late 80's as a collector.  I had started 
another business in 1989.  When I decided to sell out of that business in 1995, I turned to the
Internet to become a pioneer in helping others to develop a presence on the Web.  I taught
myself to build websites, and really didn't expect to build this one for myself.  However, 
I put up a few cards to see what would happen, they sold like hotcakes, and the rest as they 
say is history.


I was born and grew up in Los Angeles and was always a Dodger, Rams, and Laker fan as 
a kid.  I love games the way they use to be.  I have lived here all my life, I have owned other 
businesses, but I really love this one, so I consider myself lucky to be dealing with you now.
I like to travel within the United States, and abroad, and from time to time,
I have had the opportunity to meet some of my customers around the country, and I enjoy that 
as well.
Like many of you, I collected many of these cards as a kid, and loved them, mine were never 
seen again after 1971.  So in the mid 1980's, I got back into the hobby, and of course, I have
alot more cards now than I ever had as  a kid.  I am usually always available for you, whether
it is for questions or orders, and I have built a search engine which will not only allow you 
to search my inventory, but also allows you to get checklists for most of the popular sets out 
there, and certainly all of the years that I carry. (link above)

Our Goal at Dave's is to build a place where you can go, and find almost anything you like in 
the way of vintage sports cards that are at a fair price you feel good about.  We try to grade 
the cards very conservatively.  You will find, that We do not specialize in high grade, or the 
professionally graded cards etc.  We feel that while yes, it is nice to have a professional 
opinion as to the grade and value of your cards, many of us love the cards, and we know what 
we like to  buy and look at.  
What you will find at Dave's is a lot of cards, in a variety of conditions from bargain box, up to 
near mint or better, at affordable prices.  If you are interested in putting together a large 
collection of cards, you will find we are easy to work with, and we will try to help you out.  
We are always buying, and one of the things we always try to do, is buy material that we do not 
already own, so we can add to the variety of cards that are available for you at the site.

For those of you who are interested in the higher end graded cards, we are Authorized PSA
Dealers.  We can accept your cards to be sent in for grading. While we specialize in raw ungraded cards, 
we do have a  Graded card section on the site too.

Enjoy your visit at the site, and let us know if we can help in any way.


thanks

Dave
Return to THE MAIN PAGE

DAVE'S VINTAGE BASEBALL CARDS
p.o. box 251887
Los Angeles, California. 90025
310-471-1959