HAVE A COLLECTION TO SELL? were ALWAYS BUYING!! Call about your collection: 310 471 1959 or email at: gfg@gfg.com
SHORTCUTS TO OUR MORE POPULAR PAGES. SPECIAL: 15% OFF ALL ORDERS OVER $25 UNTIL FURTHER NOTICE!
Get an additional 5% off if you pay with Bitcoin, Etherum, or litecoin. Leave a comment at the checkout!
DAVE'S PRESENTS 1948 TOPPS MAGIC FIGURES OF THE WILD WEST!

1948 Topps Magic Photos set contains 252 small individual cards featuring sport and non-sport subjects. They are approximately 7/8" X 1 7/16". They were issued in 19 lettered series with cards numbered within each series. The fronts were developed much like a photograph from a blank appearance by using moisture and sunlight. Due to varying degrees of photographic sensitivity, the clarity of these cards ranges greatly. The catalogue designation for these is R714-27.





WE ARE BUYING BUYING BUYING!!

IMPORTANT INFORMATION ABOUT ORDERING, AND FAQ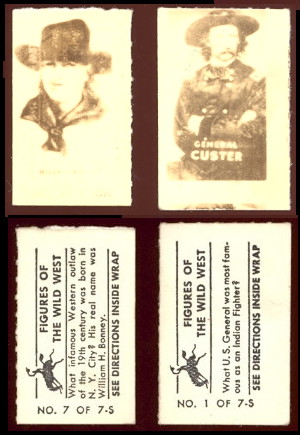 TOPPS MAGIC PHOTO CARD LINKS
search by sport, team, player, year and more!



.
1948 Topps Magic Photo Series S - Figures of the Wild West
#
Description
Conditions

---

5
Jessie James
()

NM Better
NM
EXMT
EX
VGEX
VG
Good
Fair
--
--
1 in stock
$93.75/each
--
--
--
--
--
---
We now Accept Paypal for all purchases.





10 Day Moneyback guarantee on all card sales.
You can email us at: gfg@gfg.com
or call us at 310-471-1959
NOTICE: IN THE INTEREST OF AVOIDING VIRUSES, IF YOU SEND EMAIL, AND LEAVE THE SUBJECT FIELD BLANK, YOUR EMAIL WILL PROBABLY BE DELETED.

Or send orders to:
Dave's Vintage Baseball Cards
David Levin
p.o. box 251887
Los Angeles, California. 90025
USA
California shipments/sales will have Sales Tax added on at 8.75%
Orders under $20 are subject to an additional handling charge.
Card availability and prices subject to change.
Copyright © 1997 all rights reserved ! to Copyright © 2015 all rights reserved !