S.F. Hess N321 California League baseball cards
They dont get much more rare than this!



March, 2011, and the parade of rare cards is continuing here at Dave's Vintage Baseball Cards.
The latest pickup comes from Northern California along with a collection of about 700 Non-Sports cards from the 19th Century!
Here is a little more info about these rare cards and you can see some images below.
This is one of several tobacco card sets produced by S.F. Hess & Co. of Rochester.
This 40 card set featured players from the california league and measure 1-1/2" X 2-7/8" and have blank backs. They are colorful cards and have a copyright of 1888 on the card front.
There are 35 different players, there are several that appear in more than one pose.

As of March 20th, we still have a few of these for sale, so take a look and let us know if you want one of these rare cards!

1888 S.F. Hess & Co. Baseball California League
#
Description
Conditions

---

7
john donohue
()

NM Better
NM
EXMT
EX
VGEX
VG
Good
Fair
--
--
--
--
--
--
1 in stock
$3500.00/each
--

---

24
joseph noonan
()

NM Better
NM
EXMT
EX
VGEX
VG
Good
Fair
--
--
--
--
--
--
--
1 in stock
$2900.00/each

---

30
charles selna
()

NM Better
NM
EXMT
EX
VGEX
VG
Good
Fair
--
--
--
--
--
--
1 in stock
$3500.00/each
--
---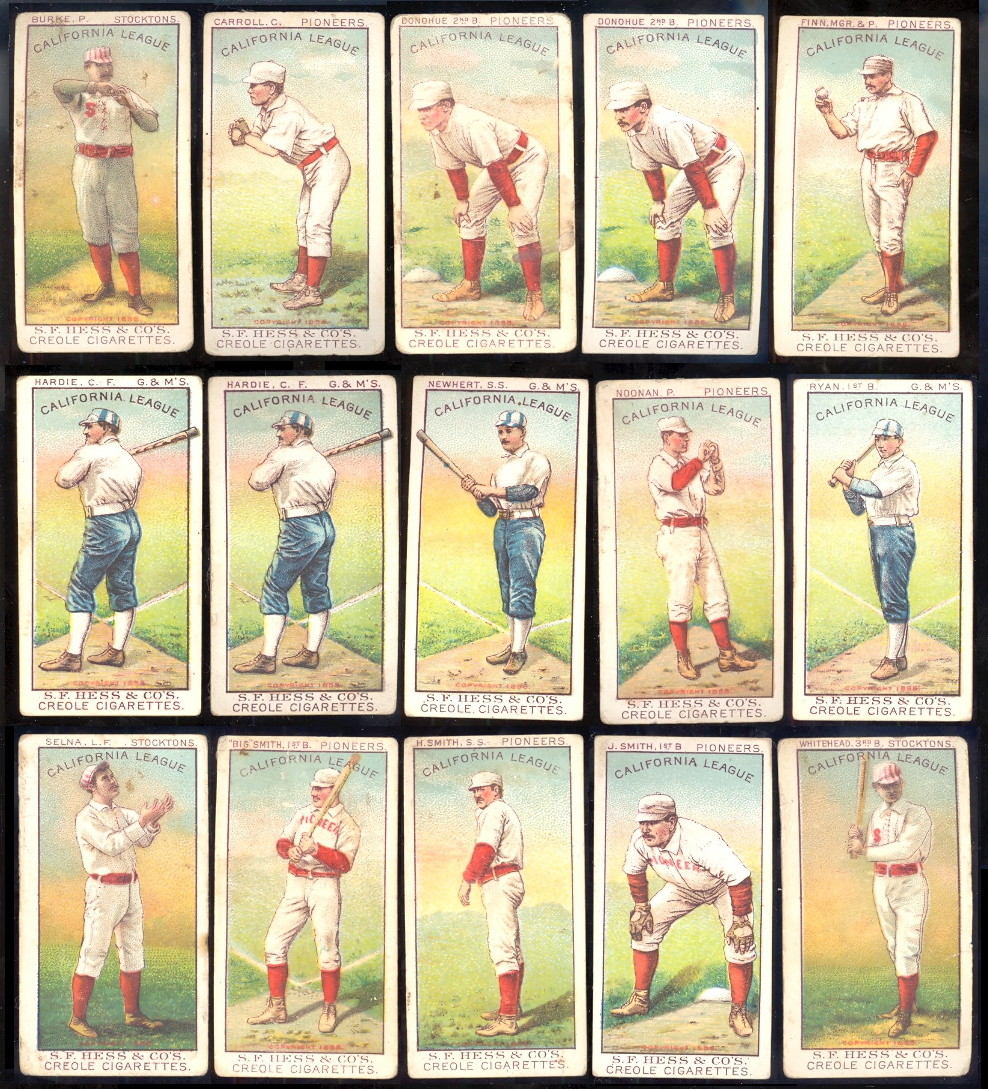 CHECK OUT
WHATS NEW AT DAVE'S! CLICK HERE
or, use our SITE MAP
15% OFF ALL ORDERS OVER $20 UNTIL FURTHER NOTICE!!!


We now Accept Paypal for all purchases.





10 Day Moneyback guarantee on all card sales.
You can email us at: gfg@gfg.com
or call us at 310-471-1959
NOTICE: IN THE INTEREST OF AVOIDING VIRUSES, IF YOU SEND EMAIL, AND LEAVE THE SUBJECT FIELD BLANK, YOUR EMAIL WILL PROBABLY BE DELETED.

Or send orders to:
Dave''''s Vintage Baseball Cards
David Levin
p.o. box 251887
Los Angeles, California. 90025
USA
California shipments/sales will have Sales Tax added on at 8.75%
Orders under $20 are subject to an additional handling charge.
Card availability and prices subject to change.
Copyright © 1997 all rights reserved ! to Copyright © 2015 all rights reserved !