See images of all 50 cards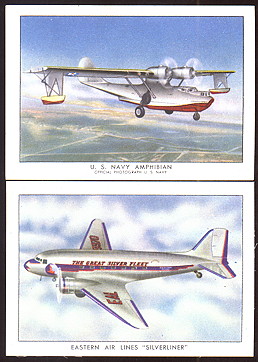 This page features Wings Cigarettes cards from 1940-1942, (T87). There were three series of these, A,B, & C. There are 50 cards in each series measuring 2-1/2" X 1-1/2". The first series can be found with or without the "Series A" on the back. Card with "Series A" on the back are more scarce.
Back in 1940 Brown & Williamson Tobacco corp sponsored a radio program "Wings of Destiny". These cards were originally issued with their tobacco products in conjuntion with the show. They were collected with albums, and usually were glued, or stapled to them, damaging the cards.
If you would like to see more information, and pictures of the albums of series A, & B,
here is a link to that page: Wings Cigarettes Cards

SERIES "C"



WE ARE BUYING BUYING BUYING!!

IMPORTANT INFORMATION ABOUT ORDERING, AND FAQ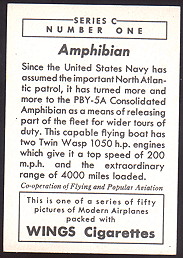 #
Description
Conditions

---

1
amphibian PBY-5A
()

NM/Mint
NM
EXMT
EX
VGEX
VG
Good
Fair/Poor
--
--
--
--
--
--
1 in stock
$1.00/each
--

---

2
fighter F4U-2
()

NM/Mint
NM
EXMT
EX
VGEX
VG
Good
Fair/Poor
--
--
--
--
--
1 in stock
$1.25/each
1 in stock
$1.00/each
--

---

3
attack bomber B-23
()

NM/Mint
NM
EXMT
EX
VGEX
VG
Good
Fair/Poor
--
--
--
--
1 in stock
$2.28/each
--
1 in stock
$1.20/each
--

---

7
pursuit P-42
()

NM/Mint
NM
EXMT
EX
VGEX
VG
Good
Fair/Poor
--
--
--
2 in stock
$2.50/each
--
1 in stock
$1.25/each
--
--

---

8
transport R3D-2
()

NM/Mint
NM
EXMT
EX
VGEX
VG
Good
Fair/Poor
--
--
2 in stock
$3.75/each
--
--
--
--
--

---

9
fighter FL-1
()

NM/Mint
NM
EXMT
EX
VGEX
VG
Good
Fair/Poor
--
--
--
2 in stock
$2.50/each
1 in stock
$1.90/each
--
--
--

---

13
medium bomber B-25
()

NM/Mint
NM
EXMT
EX
VGEX
VG
Good
Fair/Poor
--
--
2 in stock
$3.75/each
1 in stock
$2.50/each
--
--
--
--

---

14
pursuit P-43
()

NM/Mint
NM
EXMT
EX
VGEX
VG
Good
Fair/Poor
--
--
--
--
2 in stock
$2.80/each
1 in stock
$1.75/each
--
--

---

15
advanced trainer AT-8
()

NM/Mint
NM
EXMT
EX
VGEX
VG
Good
Fair/Poor
--
1 in stock
$5.00/each
--
1 in stock
$2.50/each
--
--
--
--

---

16
fighter F4F-3
()

---

17
dive-bomber SB2C-1
()

NM/Mint
NM
EXMT
EX
VGEX
VG
Good
Fair/Poor
--
1 in stock
$5.00/each
--
2 in stock
$2.50/each
--
--
--
--

---

18
basic trainer BT-9
()

NM/Mint
NM
EXMT
EX
VGEX
VG
Good
Fair/Poor
--
--
--
--
1 in stock
$2.00/each
--
--
--

---

21
patrol bomber PBS-1
()

NM/Mint
NM
EXMT
EX
VGEX
VG
Good
Fair/Poor
--
--
--
--
1 in stock
$2.00/each
--
--
--

---

22
attack bomber A-21
()

NM/Mint
NM
EXMT
EX
VGEX
VG
Good
Fair/Poor
--
--
--
--
1 in stock
$2.00/each
--
--
--

---

23
basic trainer BT-13
()

---

24
pursuit P-47
()

NM/Mint
NM
EXMT
EX
VGEX
VG
Good
Fair/Poor
--
--
--
--
1 in stock
$2.80/each
--
--
--

---

27
stinson voyager
()

NM/Mint
NM
EXMT
EX
VGEX
VG
Good
Fair/Poor
--
--
--
--
--
--
1 in stock
$1.00/each
--

---

28
taylorcraft de luxe
()

NM/Mint
NM
EXMT
EX
VGEX
VG
Good
Fair/Poor
--
--
--
--
--
--
--
1 in stock
$0.50/each

---

29
vultee experimental
()

NM/Mint
NM
EXMT
EX
VGEX
VG
Good
Fair/Poor
--
2 in stock
$5.00/each
--
--
--
--
--
--

---

30
eastern airlines "silverliner"
()

NM/Mint
NM
EXMT
EX
VGEX
VG
Good
Fair/Poor
--
--
--
1 in stock
$2.50/each
--
--
--
--

---

31
P.A.A. clipper S-42B
()

NM/Mint
NM
EXMT
EX
VGEX
VG
Good
Fair/Poor
--
--
--
--
1 in stock
$2.00/each
--
--
--

---

32
patrol bomber N3PB
()

NM/Mint
NM
EXMT
EX
VGEX
VG
Good
Fair/Poor
--
--
--
--
--
1 in stock
$1.25/each
--
--

---

33
RAF bomber "maryland"
()

---

34
Raf fighter P-40
()

NM/Mint
NM
EXMT
EX
VGEX
VG
Good
Fair/Poor
--
--
--
--
--
1 in stock
$1.25/each
--
--

---

36
RAF fighter "roc"
()

NM/Mint
NM
EXMT
EX
VGEX
VG
Good
Fair/Poor
--
--
1 in stock
$4.50/each
--
--
--
--
--

---

39
RAF light bomber "henley"
()

NM/Mint
NM
EXMT
EX
VGEX
VG
Good
Fair/Poor
--
--
--
1 in stock
$2.50/each
--
--
--
--

---

40
RAF patrol bomber "catalina"
()

NM/Mint
NM
EXMT
EX
VGEX
VG
Good
Fair/Poor
--
1 in stock
$5.00/each
--
--
--
--
--
--

---

41
bomber transport "bombay"
()

NM/Mint
NM
EXMT
EX
VGEX
VG
Good
Fair/Poor
--
--
2 in stock
$3.75/each
--
2 in stock
$2.00/each
--
--
--

---

42
RAF advanced trainer
()

NM/Mint
NM
EXMT
EX
VGEX
VG
Good
Fair/Poor
--
1 in stock
$5.00/each
--
--
--
--
--
--

---

43
RAF basic trainer "yale"
()

NM/Mint
NM
EXMT
EX
VGEX
VG
Good
Fair/Poor
--
1 in stock
$6.00/each
--
--
--
--
--
--

---

45
RAF night fighter "defiant"
()

NM/Mint
NM
EXMT
EX
VGEX
VG
Good
Fair/Poor
--
--
--
1 in stock
$2.50/each
--
--
--
--

---

46
RAF fighter "mustang"
()

NM/Mint
NM
EXMT
EX
VGEX
VG
Good
Fair/Poor
--
1 in stock
$7.00/each
--
--
--
--
--
--

---

49
laison (cuban navy)
()

NM/Mint
NM
EXMT
EX
VGEX
VG
Good
Fair/Poor
--
--
1 in stock
$3.75/each
--
1 in stock
$1.90/each
--
--
--