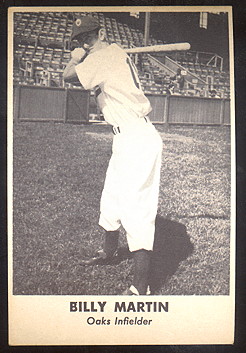 1949 remar bread, Billy Martin
1950
DAVE'S VINTAGE BASEBALL CARDS PRESENTS Remar Bread cards for the Oakland Oaks.
Remar Baking Company Issued several baseball card sets in Northern California from 1946 - 1950, all picturing members of the Oakland Oaks of the Pacific Coast League. The two sets we have in stock now are from 1949 featuring Billy Martin, and 1950. We currently have singles, and a few complete sets.
You will find links to some other PCL issue cards shortly, we have some Signal Oil, and Smith Foods as well.




WE ARE BUYING BUYING BUYING!!

IMPORTANT INFORMATION ABOUT ORDERING, AND FAQ


1947 Remar Bread
1949 Remar Bread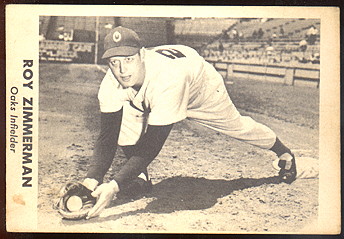 1950 remar bread
#
Description
Conditions

---

3
loyd christopher
(Oakland oaks)

NM/Mint
NM
EXMT
EX
VGEX
VG
Good
Fair/Poor
--
--
--
3 in stock
$10.00/each
--
--
--
--

---

4
Chuck Dressen
(Oakland oaks)

NM/Mint
NM
EXMT
EX
VGEX
VG
Good
Fair/Poor
--
--
--
5 in stock
$10.00/each
--
--
--
--

---

5
mel duezabou
(Oakland oaks)

---

6
Augie Galan
(Oakland oaks)

---

7
charlie gassaway
(Oakland oaks)

---

8
Allen Gettel
(Oakland oaks)

---

9
ernie w groth
(Oakland oaks)

---

10
ray hamrick
(Oakland oaks)

---

11
Earl Harrist
(Oakland oaks)

NM/Mint
NM
EXMT
EX
VGEX
VG
Good
Fair/Poor
--
--
--
1 in stock
$10.00/each
--
--
--
--

---

12
Billy Herman
(Oakland oaks)

---

13
Bob Hofman
(Oakland oaks)

NM/Mint
NM
EXMT
EX
VGEX
VG
Good
Fair/Poor
--
--
--
1 in stock
$10.00/each
--
--
--
--

---

14
george kelly
(Oakland oaks)

---

15
Harry Lavagetto
(Oakland oaks)

---

17
George Metkovich
(Oakland oaks)

NM/Mint
NM
EXMT
EX
VGEX
VG
Good
Fair/Poor
--
--
--
1 in stock
$10.00/each
--
--
--
--

---

18
frank nelson
(Oakland oaks)

---

20
don padgett
(Oakland oaks)