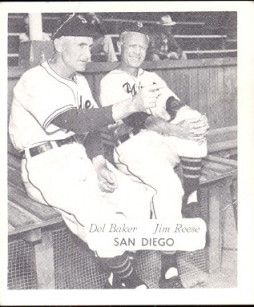 1950 Hage's Ice Cream
1950 Hage's Ice Cream Baseball Cards!

RARE - This 2.6" by 3.1" Pacific Coast League issue is really 3 sets issued over 3 years, and include mainly Padres players but also players from the other PCL teams as well. They were put out by Hage's Dairy of Southern California but were not included in any of their products, they were issued in boxes of popcorn sold at the concession stands at Lane Field Park, home of the San Diego Padres of the Pacific Coast League. The first and rarest is the 1949 F65-1 Hage's set (105 different cards) which is blank backed and came in one of 4 color tints, B&W, sepia, green, or blue. The caption typeface on 1949 cards is slightly larger than the other 2 years. The 1950 F65-2 set (127 different cards) is similar on front to the previous year but the typeface is smaller and most cards will have an ad for a Hage's product like milk, ice cream, etc. on the back. The 1951 F65-3 set (53 different cards) is similar again on front but is found only with a blank back and in many color tints like blue, green, burgundy, gold, sepia, or gray, but no B&W. The 1951 set also includes 7 players from the Major League Cleveland Indians that were only issued during an exhibition series between Cleveland and the Padres, making them a bit scarcer than other cards in the 1951 set.




WE ARE BUYING BUYING BUYING!!

IMPORTANT INFORMATION ABOUT ORDERING, AND FAQ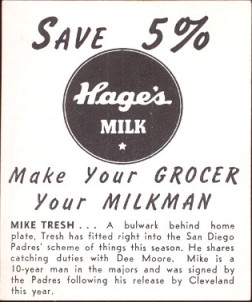 1948 Signal Oil (Stengel)