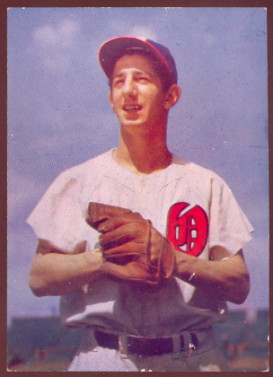 billy martin
DAVE'S VINTAGE BASEBALL CARDS PRESENTS PCL cards for the Oakland Oaks.
This page presents cards from Signal Oil, and Smiths Clothing Stores.
Issued in Northern California from 1947 - 1950, all picturing members of the Oakland Oaks of the Pacific Coast League. You will find links to some other PCL issue cards shortly.




WE ARE BUYING BUYING BUYING!!

IMPORTANT INFORMATION ABOUT ORDERING, AND FAQ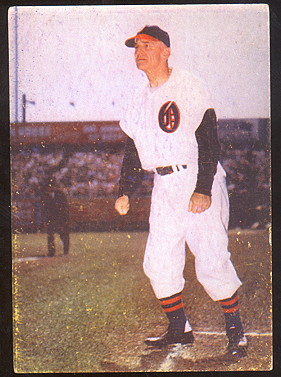 1948 Signal Oil (Stengel)
#
Description
Conditions

---

2
ralph buxton
(Oakland oaks)

---

3
loyd christopher
(Oakland oaks)

---

5
melvin deuzabou
(Oakland oaks)

NM/Mint
NM
EXMT
EX
VGEX
VG
Good
Fair/Poor
--
--
--
--
2 in stock
$22.80/each
--
--
--

---

6
nicholas etten
(Oakland oaks)

NM/Mint
NM
EXMT
EX
VGEX
VG
Good
Fair/Poor
--
--
--
--
--
--
1 in stock
$12.00/each
--

---

8
charles gassaway
(Oakland oaks)

NM/Mint
NM
EXMT
EX
VGEX
VG
Good
Fair/Poor
--
--
--
--
--
1 in stock
$10.80/each
--
--

---

9
will hafey
(Oakland oaks)

NM/Mint
NM
EXMT
EX
VGEX
VG
Good
Fair/Poor
--
1 in stock
$60.00/each
--
--
--
--
--
--

---

10
ray hamrick
(Oakland oaks)

---

12
earl jones
(Oakland oaks)

NM/Mint
NM
EXMT
EX
VGEX
VG
Good
Fair/Poor
--
--
--
--
--
--
1 in stock
$12.00/each
--

---

14
robert lillard
(Oakland oaks)

NM/Mint
NM
EXMT
EX
VGEX
VG
Good
Fair/Poor
--
--
--
--
--
--
--
2 in stock
$6.00/each

---

15
dario lodigiani
(Oakland oaks)

NM/Mint
NM
EXMT
EX
VGEX
VG
Good
Fair/Poor
--
--
--
--
--
--
--
1 in stock
$9.00/each

---

16
Ernie Lombardi
(Oakland oaks)

NM/Mint
NM
EXMT
EX
VGEX
VG
Good
Fair/Poor
--
--
--
--
--
1 in stock
$31.25/each
--
--

---

18
George Metkovich
(Oakland oaks)

NM/Mint
NM
EXMT
EX
VGEX
VG
Good
Fair/Poor
--
--
--
1 in stock
$39.00/each
--
--
--
--

---

20
les george scarsella
(Oakland oaks)

NM/Mint
NM
EXMT
EX
VGEX
VG
Good
Fair/Poor
--
--
--
--
--
--
1 in stock
$12.00/each
--

---

23
maurice van robays
(Oakland oaks)

NM/Mint
NM
EXMT
EX
VGEX
VG
Good
Fair/Poor
--
--
1 in stock
$45.00/each
--
--
--
--
--
#
Description
Conditions

---

2
al libke
(Hollywood stars)

NM/Mint
NM
EXMT
EX
VGEX
VG
Good
Fair/Poor
1 in stock
$660.00/each
--
--
--
--
--
--
--

---

3
don ross
(Hollywood stars)

NM/Mint
NM
EXMT
EX
VGEX
VG
Good
Fair/Poor
1 in stock
$660.00/each
--
--
--
--
--
--
--

---

5
Gus Zernial
(Hollywood stars)

NM/Mint
NM
EXMT
EX
VGEX
VG
Good
Fair/Poor
1 in stock
$660.00/each
--
--
--
--
--
--
--

---

6
larry barton
(Los Angeles Angels)

NM/Mint
NM
EXMT
EX
VGEX
VG
Good
Fair/Poor
--
--
--
1 in stock
$300.00/each
--
--
--
--

---

7
cece garriott
(Los Angeles Angels)

NM/Mint
NM
EXMT
EX
VGEX
VG
Good
Fair/Poor
1 in stock
$660.00/each
--
--
--
--
--
--
--

---

9
Eddie Malone
(Los Angeles Angels)

NM/Mint
NM
EXMT
EX
VGEX
VG
Good
Fair/Poor
--
1 in stock
$600.00/each
--
--
--
--
--
--