"Red Sun Cigarettes" made in New Orleans cards. These measure approximately 1-7/16" X 2-5/8".
Also featured on this page are The Pet/Kopec Mouthpiece cigarettes cards.
Issues around 1910-1911. Thought to be a 50 card set, Adam Warshaw can confirm 39 cards with 24 being Boxers.
Originally called T224 & T229 they have been combined and are considered T229.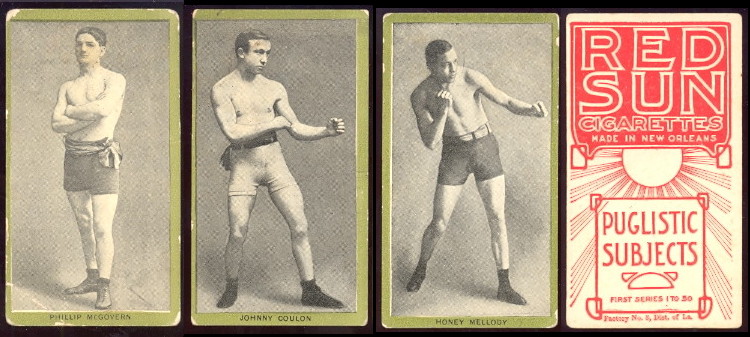 WE ARE BUYING BUYING BUYING!!

IMPORTANT INFORMATION ABOUT ORDERING, AND FAQ


1910 T226 Red Sun baseball regular
#
Description
Conditions

---

10
johnny coulon
()

NM Better
NM
EXMT
EX
VGEX
VG
Good
Fair
--
--
--
--
1 in stock
$262.50/each
--
--
--

---

37
phillip McGovern
()

NM Better
NM
EXMT
EX
VGEX
VG
Good
Fair
--
--
--
--
--
1 in stock
$187.50/each
--
--

---

39
honey mellody
()

NM Better
NM
EXMT
EX
VGEX
VG
Good
Fair
--
--
--
--
1 in stock
$255.00/each
--
--
--

---

41
tommy murphy
()

NM Better
NM
EXMT
EX
VGEX
VG
Good
Fair
--
--
--
--
--
1 in stock
$187.50/each
--
--
---
MORE BOXING CARDS: