1946-49 Sports Exchange CARDS AT DAVE'S!! (W603)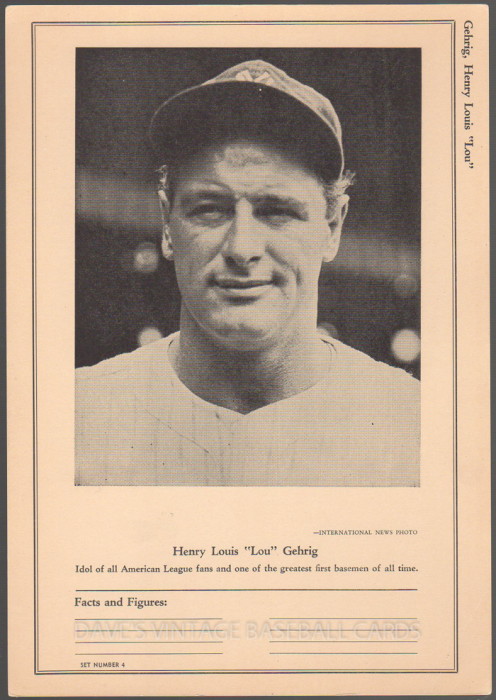 This page features W603 Sports Exchange from 1946 thru 1949.
Originally published by the "Trading Post" (one of the very first hobby publications), which was one of the first card collectors'publications. This 113 card set was issued over 12 series at 50 cents per series. Considering this is one of the first baseball card sets issued after World War II, it contains cards of several players not found in other issues. The cards are black and white, blank-backed, and measure 7" x 10".
Fronts feature Players name on the top right margin, Players photo, Name, Players info and an area to note Facts and Figures, the backs are blank. Included in the set are some of baseballís all-time greats, you will find cards of "Shoeless" Joe Jackson, Stan Musial, Rogers Hornsby, Lou Gehrig, Joe DiMaggio, Lemon/Rolfe, Ted Williams, Honus Wagner and Babe Ruth. These were issued over a three year period.

WE ARE BUYING BUYING BUYING!!

IMPORTANT INFORMATION ABOUT ORDERING, AND FAQ


RETURN TO PRE-WAR
#
Description
Conditions

---

2
Bill Dickey 1- Set 1b
(New York Yankees)

NM Better
NM
EXMT
EX
VGEX
VG
Good
Fair
--
--
1 in stock
$75.00/each
--
--
--
--
--

---

14
Walker Cooper 2- Set 1a
(St. Louis Cardinals)

NM Better
NM
EXMT
EX
VGEX
VG
Good
Fair
--
--
--
1 in stock
$30.00/each
--
--
--
--

---

18
Frank Frisch 2- Set 4
(New York Giants)

NM Better
NM
EXMT
EX
VGEX
VG
Good
Fair
--
--
--
1 in stock
$50.00/each
--
--
--
--

---

19
Charlie Grimm 2- Set 5
(Chicago Cubs)

NM Better
NM
EXMT
EX
VGEX
VG
Good
Fair
--
--
--
1 in stock
$30.00/each
--
--
--
--

---

43
Al Evans 4- Set 3
(Washington Senators)

NM Better
NM
EXMT
EX
VGEX
VG
Good
Fair
--
--
1 in stock
$45.00/each
--
--
--
--
--

---

44
Lefty Grove 4- Set 4
(Boston Red Sox)

NM Better
NM
EXMT
EX
VGEX
VG
Good
Fair
--
--
--
1 in stock
$100.00/each
--
--
--
--

---

45
Ted Lyons 4- Set 5
(Chicago White Sox)

NM Better
NM
EXMT
EX
VGEX
VG
Good
Fair
--
--
--
1 in stock
$100.00/each
--
--
--
--

---

54
George McQuinn 5- Set 1b
(St. Louis Browns)

NM Better
NM
EXMT
EX
VGEX
VG
Good
Fair
--
--
--
1 in stock
$30.00/each
--
--
--
--

---

68
Tex Hughson 6- Set 2
(Boston Red Sox)

NM Better
NM
EXMT
EX
VGEX
VG
Good
Fair
--
--
--
1 in stock
$30.00/each
--
--
--
--

---

71
Steve Oneil 6- Set 5
(Detroit Tigers)

NM Better
NM
EXMT
EX
VGEX
VG
Good
Fair
--
--
1 in stock
$45.00/each
--
--
--
--
--

---

82
Carl Hubbell 7- Set 4
(New York Giants)

NM Better
NM
EXMT
EX
VGEX
VG
Good
Fair
--
--
--
1 in stock
$100.00/each
--
--
--
--

---

91
Dick Wakefield 8- Set 1b
(Detroit Tigers)

NM Better
NM
EXMT
EX
VGEX
VG
Good
Fair
--
--
--
1 in stock
$30.00/each
--
--
--
--

---

95
Luke Sewell 8- Set 5
(Pittsburgh Pirates)

NM Better
NM
EXMT
EX
VGEX
VG
Good
Fair
--
--
--
1 in stock
$30.00/each
--
--
--
--