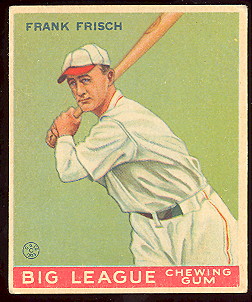 This page features World Wide Gum Canadian Goudey cards from 1933, 1934 and 1936 (V353, V354 & V355).
Also known as "Canadian Goudeys" this 94 card set drew heavily on its U.S. contemporary. Card fronts are identical to the 33 Goudeys and the backs are nearly so.
The first 52 cards carry the same card numbers as their American counterparts, while #53-94 have different numbers than the U.S. version.
Card backs can be found entirely in English or in English and French, the former being more scarce.
The cards measure 2-3/8" X 2-7/8".
The 1934 are nearly clones of the U.S. version, but can only be found in bi-lingual text.
Cards 1-48 have card fronts that are the same as the 1933 issue.
WE ARE BUYING BUYING BUYING!!

IMPORTANT INFORMATION ABOUT ORDERING, AND FAQ


RETURN TO PRE-WAR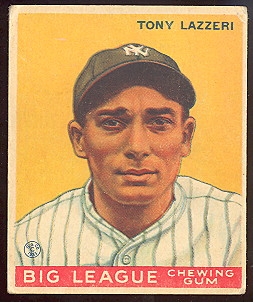 #
Description
Conditions

---

7
Ted Lyons
(Chicago White Sox)

NM/Mint
NM
EXMT
EX
VGEX
VG
Good
Fair/Poor
--
--
--
--
--
1 in stock
$150.00/each
--
--

---

11
billy rogell
(Detroit Tigers)

NM/Mint
NM
EXMT
EX
VGEX
VG
Good
Fair/Poor
--
--
--
--
1 in stock
$48.00/each
--
--
--

---

20
Bill Terry
(New York Giants)

NM/Mint
NM
EXMT
EX
VGEX
VG
Good
Fair/Poor
--
--
--
--
1 in stock
$200.00/each
--
--
--

---

26
chalmer cissell
(Cleveland Indians)

---

38
fred brickell
(Philadelphia Phillies)

NM/Mint
NM
EXMT
EX
VGEX
VG
Good
Fair/Poor
--
--
--
--
--
--
1 in stock
$20.00/each
--

---

49
Frank Frisch
(St. Louis Cardinals)

NM/Mint
NM
EXMT
EX
VGEX
VG
Good
Fair/Poor
--
--
--
--
1 in stock
$225.00/each
--
--
--

---

87
danny macfayden
(New York Yankees)

NM/Mint
NM
EXMT
EX
VGEX
VG
Good
Fair/Poor
--
--
--
--
1 in stock
$56.00/each
--
--
--
#
Description
Conditions

---

12
carl reynolds
(Boston Red Sox)

NM/Mint
NM
EXMT
EX
VGEX
VG
Good
Fair/Poor
--
--
--
--
1 in stock
$44.00/each
--
--
--

---

18
edgar sam rice
(Cleveland Indians)

NM/Mint
NM
EXMT
EX
VGEX
VG
Good
Fair/Poor
--
--
--
--
--
1 in stock
$115.00/each
--
--

---

23
dick coffman
(St. Louis Browns)

NM/Mint
NM
EXMT
EX
VGEX
VG
Good
Fair/Poor
--
--
--
--
--
1 in stock
$33.00/each
--
--

---

37
glenn spencer
(New York Giants)

NM/Mint
NM
EXMT
EX
VGEX
VG
Good
Fair/Poor
--
--
--
--
--
--
1 in stock
$27.50/each
--