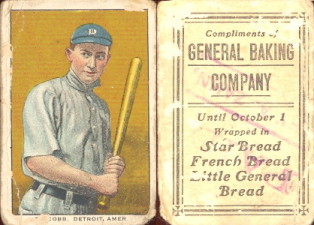 Super rare D304 Cobb general baking baseball card
D304 GENERAL BAKING BASEBALL CARDS
Slightly larger than contemporary cards at 1-3/4" x 2-1/2", they were issued by a Buffalo NY based bakery between 1911-1914. There are 25 players in the set, and some have blacked out teams because some players changed teams. Principle brand names were: Brunners, Butter Krust, General baking co. Weber bakery, and Martens bakery. They are very rare!

D303 GENERAL BAKING BASEBALL CARDS
Issued in 1915 by the General Baking company, these cards measure 1-1/2" X 2-3/4" and have an advertisement on the back for the bread company.
These are a very rare and seldom seen issue.
There are 51 cards in the set.
On Oct 6th 2011, we picked up a nice quantity of these, you can view images of these rare cards at the bottom of the page.
Cards in the price table below are available for sale.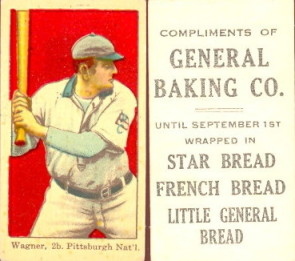 D303 1915 Honus Wagner