SHORTCUTS TO OUR MORE POPULAR PAGES. SPECIAL: 15% OFF ALL ORDERS UNTIL FURTHER NOTICE!


1911 George Close Candy Baseball Cards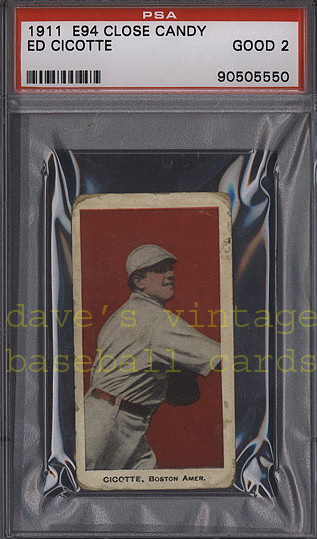 DAVE'S VINTAGE BASEBALL CARDS PRESENTS 1911 E94 George Close Candy Baseball Cards.
Issued by The George Close Candy Company of Cambridge, Mass. Is nearly identical to several other contemporary candy sets from this period which share the same format and in many cases, the same players poses. The cards measure 1-1/2" X 2-3/4" and utilize color reproductions of actual photographs on the fronts. Backs carry a set checklist and fronts can be found in seven different colors, (blue, gold, green, olive, red, violet and yellow).




WE ARE BUYING BUYING BUYING!!

IMPORTANT INFORMATION ABOUT ORDERING, AND FAQ


E98 Cards shown below
1911 E94 Close Candy Baseball Regular
#
Description
Conditions

---

13
patsy dougherty (blue)
(New York Yankees)

NM/Mint
NM
EXMT
EX
VGEX
VG
Good
Fair/Poor
--
--
--
--
--
--
1 in stock
$425.00/each
--
---
We now Accept Paypal for all purchases.





10 Day Moneyback guarantee on all card sales.
You can email us at: gfg@gfg.com
or call us at 310-471-1959
NOTICE: IN THE INTEREST OF AVOIDING VIRUSES, IF YOU SEND EMAIL, AND LEAVE THE SUBJECT FIELD BLANK, YOUR EMAIL WILL PROBABLY BE DELETED.

Or send orders to:
Dave's Vintage Baseball Cards
David Levin
p.o. box 251887
Los Angeles, California. 90025
USA
California shipments/sales will have Sales Tax added on at 8.75%
Orders under $20 are subject to an additional handling charge.
Card availability and prices subject to change.
Copyright © 1997 all rights reserved ! to Copyright © 2015 all rights reserved !