HAVE A COLLECTION TO SELL? were ALWAYS BUYING!! Call about your collection: 310 471 1959 or email at: gfg@gfg.com
SHORTCUTS TO OUR MORE POPULAR PAGES. SPECIAL: 15% OFF ALL ORDERS OVER $25 UNTIL FURTHER NOTICE!
1923 LECTIONS CARDS AT DAVE'S!!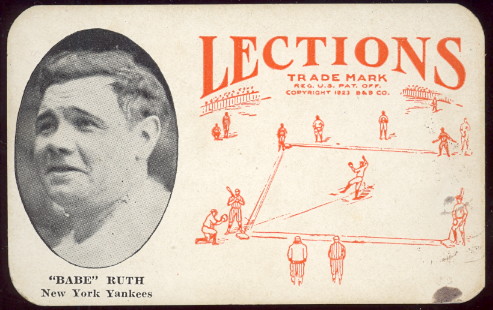 SOLD
This page features 1923 Lections baseball cards
This 10 card set was issued in 1923 at the Albany worlds fair, or maybe it was a state fair, it was in New York and was in conjunction with election campaigns that were taking place.
Candidates who were running for office handed out "election" cards with their likeness to adults, and the Lection cards featuring ball players were given to the kids. They were only handed out for three days which is why they are so rare. Less than 75 cards are known to exist making these extremely tough to find.
They are so rare that they were not even known to exist until they were re-discovered in 1997.
The cards measure 4" X 2-1/2" and are made of thick card board and are blank on the back.
The set includes Babe Ruth, Frank Chance, Rogers Hornsby and Frank Frisch along with six common players.
They are typically found in very poor condition, however the ones we are showing are very nice.
WE ARE BUYING BUYING BUYING!!

IMPORTANT INFORMATION ABOUT ORDERING, AND FAQ


1923 Lections Baseball Regular
#
Description
Conditions

---

6
Bob Meusel
(New York Yankees)

NM Better
NM
EXMT
EX
VGEX
VG
Good
Fair
--
--
--
--
1 in stock
$1800.00/each
--
--
--

---

7
Emil Meusel
(New York Giants)

NM Better
NM
EXMT
EX
VGEX
VG
Good
Fair
--
--
1 in stock
$3200.00/each
--
--
--
--
--
---
PRE-WAR CARD LINKS, Scrool down to access card listings.




.


We now Accept Paypal for all purchases.





10 Day Moneyback guarantee on all card sales.
You can email us at: gfg@gfg.com
or call us at 310-471-1959
NOTICE: IN THE INTEREST OF AVOIDING VIRUSES, IF YOU SEND EMAIL, AND LEAVE THE SUBJECT FIELD BLANK, YOUR EMAIL WILL PROBABLY BE DELETED.

Or send orders to:
Dave's Vintage Baseball Cards
David Levin
p.o. box 251887
Los Angeles, California. 90025
USA
California shipments/sales will have Sales Tax added on at 8.75%
Orders under $20 are subject to an additional handling charge.
Card availability and prices subject to change.
Copyright © 1997 all rights reserved ! to Copyright © 2015 all rights reserved !