HAVE A COLLECTION TO SELL? were ALWAYS BUYING!! Call about your collection: 310 471 1959 or email at: gfg@gfg.com
SHORTCUTS TO OUR MORE POPULAR PAGES. SPECIAL: 15% OFF ALL ORDERS OVER $25 UNTIL FURTHER NOTICE!
Get an additional 5% off if you pay with Bitcoin, Etherum, or litecoin. Leave a comment at the checkout!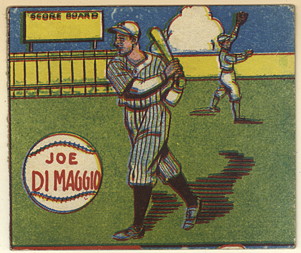 Joe Dimaggio
1943 M.P & CO. (R302-1)

Now in stock!
One of the few baseball card sets issued during world war II, the set is unnumbered, and the cards measured approximately 2-5/8" X 2-1/4" and were produced in two major types and at least five subtypes.
They were originally produced in strips and sold inexpensively in candy stores.
M.P & Co. stands for Michael Pressner and Co., a new york city novelty and carnival supply firm.

RETURN TO PRE 50'S PAGE, GOUDEYS, LEAFS ETC.

IMPORTANT INFORMATION ABOUT ORDERING, AND FAQ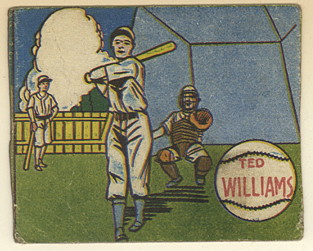 Ted Williams
search by sport, team, player, year and more!







.

1943 M.P. & Co. Baseball Regular
#
Description
Conditions

---

7
hank danning
(New York Giants)

---

13
Stan Hack
(Chicago Cubs)

---

14
tom henrich
(New York Yankees)

NM/Mint
NM
EXMT
EX
VGEX
VG
Good
Fair/Poor
--
--
--
--
--
1 in stock
$19.50/each
--
--

---

17
Johnny Mize
(New York Giants)

NM/Mint
NM
EXMT
EX
VGEX
VG
Good
Fair/Poor
--
--
--
--
--
3 in stock
$18.75/each
--
--

---

18
lou novikoff
(Chicago Cubs)
---
PRE-WAR CARD LINKS, Scrool down to access card listings.
We now Accept Paypal for all purchases.





10 Day Moneyback guarantee on all card sales.
You can email us at: gfg@gfg.com
or call us at 310-471-1959
NOTICE: IN THE INTEREST OF AVOIDING VIRUSES, IF YOU SEND EMAIL, AND LEAVE THE SUBJECT FIELD BLANK, YOUR EMAIL WILL PROBABLY BE DELETED.

Or send orders to:
Dave's Vintage Baseball Cards
David Levin
p.o. box 251887
Los Angeles, California. 90025
USA
California shipments/sales will have Sales Tax added on at 8.75%
Orders under $20 are subject to an additional handling charge.
Card availability and prices subject to change.
Copyright © 1997 all rights reserved ! to Copyright © 2015 all rights reserved !