Click for larger image
Ty Cobb
DAVE'S PRESENTS B-18 BLANKETS FROM 1914
These 5-1/4" square flannels were issued in 1914 wrapped around several popular brands of tobacco. They got the nickname of blankets because many of them were sewn together to form bed covers or throws. There are several color combinations on the flannels for each team, and there are a total of 90 different players.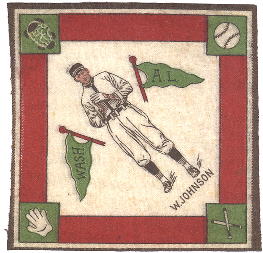 Click for larger image
Walter Johnson

.