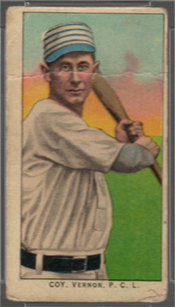 DAVE'S VINTAGE BASEBALL CARDS PRESENTS
1910 Obak Mouthpiece Cigarettes Cards
T212



The second of three years these were produced by the California branch of the American Tobacco Company That also produced the T206 cards. These measure 1-1/2 X 2-5/8, same as T206 cards. They have white borders.
This set features players from the six Pacific Coast league teams and the four-team Northwestern league.
This particular year is very complex in that there are 40 players that can be found with either 150 subjects, or 175 subjects. The 150 backs are very rare.
There are significant picture and cropping variations in these, as well as team names, strips and other items that are different on these cards.
There are 35 different advertising slogans on these cards.




WE ARE BUYING BUYING BUYING!!

IMPORTANT INFORMATION ABOUT ORDERING, AND FAQ




1909 T212, 1910 175 subjects, 1911 T212.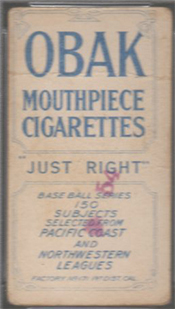 rare "just right" back