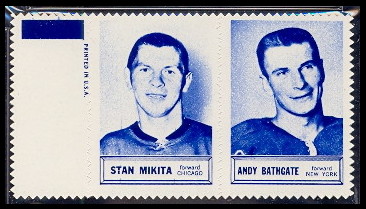 1961 Topps Hockey Staamp Panel
1961 Topps Hockey Stamp Panels
There are 26 Stamp Panels making up this Scarce Set. Three teams are represented, the Boston Bruins, Chicago Blackhawks and the New York Rangers, also there are All Time Greats. The Stamp Panels were inserted in the 1961-62 Topps Hockey packs.

Return to 1961 Topps Hockey Regular Issue
WE ARE BUYING BUYING BUYING!!

IMPORTANT INFORMATION ABOUT ORDERING, AND FAQ


search by sport, team, player, year and more!






To order, click on the price of the card you want. Select quantity when you go to the shopping cart. The shopping cart now works for AOL users!

.