Dave's presents 1952 Parkhurst minor league baseball cards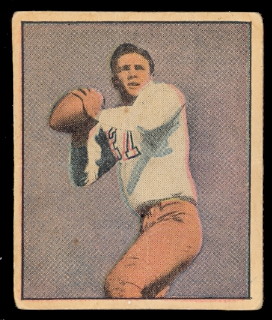 DAVE'S VINTAGE BASEBALL CARDS PRESENTS 1951 BERK ROSS BASEBALL, FOOTBALL, BASKETBALL, HOCKEY, GOLF, MULTI-SPORT CARDS
The 1951 Berk Ross "Hit Parade of Champions" contains 72 cards and features stars from various sports including baseball, football, basketball, hockey, track and field, boxing, golf, and Olympic Sports. The cards measure 2-1/16" x 2-1/2" in size and have tinted color photographs on the front. The backs have statistics, name, team, and accomplishments. The set is divided into four subsets and the first ten cards of each series are baseball players. Stars include Joe DiMaggio, Yogi Berra, Stan Musial, Whitey Ford, Phil Rizzuto, Bob Cousy, Ben Hogan, Sugar Ray Robinson, Doak Walker, Jesse Owens, Bill Sharman, and many others.



WE ARE BUYING BUYING BUYING!!

IMPORTANT INFORMATION ABOUT ORDERING, AND FAQ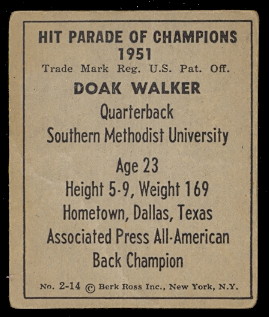 #
Description
Conditions

---

15
1-15 James Martin
(Notre Dame)

NM Better
NM
EXMT
EX
VGEX
VG
Good
Fair
--
--
--
1 in stock
$12.50/each
--
--
--
--

---

32
2-14 Doak Wakler
(Southern Methodist)

NM Better
NM
EXMT
EX
VGEX
VG
Good
Fair
--
--
--
--
--
1 in stock
$10.00/each
--
--

---

33
2-15 Emil Sitko
(Notre Dame)

---

34
2-16 Jack Stewart
(Detroit Red Wings)

NM Better
NM
EXMT
EX
VGEX
VG
Good
Fair
--
--
--
--
--
--
1 in stock
$12.00/each
--

---

35
2-17 Dick Button
()

NM Better
NM
EXMT
EX
VGEX
VG
Good
Fair
--
--
--
--
1 in stock
$12.00/each
--
--
--

---

36
2-18 Melvin Patton
()

NM Better
NM
EXMT
EX
VGEX
VG
Good
Fair
--
--
--
--
--
1 in stock
$7.50/each
--
--

---

53
3-17 Yvonne Claire Sherman
()

NM Better
NM
EXMT
EX
VGEX
VG
Good
Fair
--
--
--
--
--
1 in stock
$10.00/each
--
--

---

65
4-11 Bill Sharman
(usc)

NM Better
NM
EXMT
EX
VGEX
VG
Good
Fair
--
--
--
--
1 in stock
$32.00/each
--
--
--

---

66
4-12 Sandy Saddler
()

NM Better
NM
EXMT
EX
VGEX
VG
Good
Fair
--
--
--
1 in stock
$10.00/each
--
--
--
--

---

67
4-13 Margaret DuPont
()

NM Better
NM
EXMT
EX
VGEX
VG
Good
Fair
--
--
--
1 in stock
$10.00/each
--
--
--
--

---

70
4-16 Glen Cunningham
()

---

71
4-17 Gregory Rice
(Notre Dame)

NM Better
NM
EXMT
EX
VGEX
VG
Good
Fair
--
--
--
--
--
--
--
1 in stock
$4.00/each

---

72
4-18 Harrison Dillard
()