HAVE A COLLECTION TO SELL? were ALWAYS BUYING!! Call about your collection: 310 471 1959 or email at: gfg@gfg.com
SHORTCUTS TO OUR MORE POPULAR PAGES. SPECIAL: 15% OFF ALL ORDERS OVER $25 UNTIL FURTHER NOTICE!
Get an additional 5% off if you pay with Bitcoin, Etherum, or litecoin. Leave a comment at the checkout!
DAVE'S VINTAGE BASEBALL CARDS PRESENTS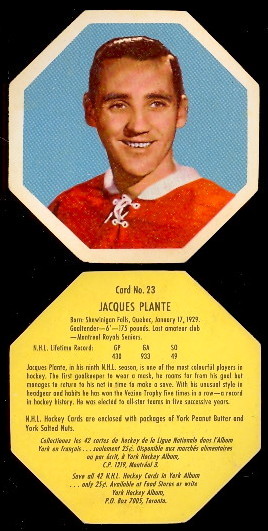 1961-62 York Peanut Butter Yellow Backs

These York hockey cards are octagonal in shape, measure approx. 2 1/2" and numbered on the back. The card backs are written in both French and English. An Album was available for both years. The 1961-62 York Peanut Butter cards are a 42 card Set and have yellow backs. The 1963-64 York Peanut Butter and York Salted Nuts is a 54 card Set with white backs.





WE ARE BUYING BUYING BUYING!!

IMPORTANT INFORMATION ABOUT ORDERING, AND FAQ




We also have 1963 York Peanut Butter Hockey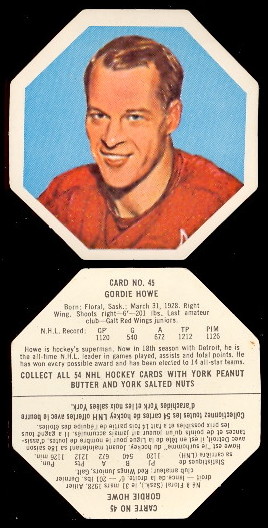 To order, click on the price of the card you want. Select quantity when you go to the shopping cart. The shopping cart now works for AOL users!

1961 York Peanut Butter Hockey Regular
#
Description
Conditions

---

30
Phil Goyette
(Montreal Canadians)

---

31
Larry Hillman
(Toronto Maple Leafs)

NM Better
NM
EXMT
EX
VGEX
VG
Good
Fair
--
--
--
2 in stock
$7.50/each
--
--
--
--
---
PRE 50s AND PARKHURST HOCKEY CARDS
TOPPS and O-PEE-CHEE HOCKEY CARDS
FOOD BRANDS, REGIONALS & MISC ISSUES
TOPPS and O-PEE-CHEE HOCKEY INSERTS SETS
search by sport, team, player, year and more!



We now Accept Paypal for all purchases.





10 Day Moneyback guarantee on all card sales.
You can email us at: gfg@gfg.com
or call us at 310-471-1959
NOTICE: IN THE INTEREST OF AVOIDING VIRUSES, IF YOU SEND EMAIL, AND LEAVE THE SUBJECT FIELD BLANK, YOUR EMAIL WILL PROBABLY BE DELETED.

Or send orders to:
Dave's Vintage Baseball Cards
David Levin
p.o. box 251887
Los Angeles, California. 90025
USA
California shipments/sales will have Sales Tax added on at 8.75%
Orders under $20 are subject to an additional handling charge.
Card availability and prices subject to change.
Copyright © 1997 all rights reserved ! to Copyright © 2015 all rights reserved !