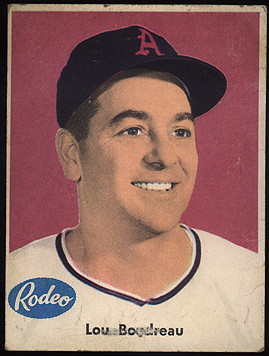 DAVE'S VINTAGE BASEBALL CARDS PRESENTS 1955 & 1956 Rodeo Meats Athletics.
This set of 2-1/2" X 3-1/2" color cards were issued by a local meat company to commemorate the first year of the Athletics in Kansas City. There are 38 different players included in the set, with nine players known to appear in two different variations for a total of 47 cards.

In 1956, it is a smaller set, 12 cards, with a similar design as 1955 but different ad style on the back.

These cards are rare and seldom found in higher grade. None of these cards have back damage, just normal wear and minor stains on a few.




WE ARE BUYING BUYING BUYING!!

IMPORTANT INFORMATION ABOUT ORDERING, AND FAQ