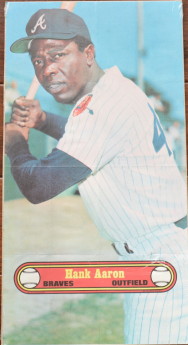 The 1972 Topps Posters were issued as a separate Set rather than inserted into wax packs. The posters measure approx. 9-7/16" x 18" and printed on very thin paper. The Posters were folded for packaging causing creases.

These are very rare, and in October, 2020, we picked up a near set (22/24) and with the exception of two of them, Torre & Oliva, they look pack fresh, the seller told me he just opened them enough to see who they were.
I opened them just to check and make sure there was no damage.
I do not believe these were ever opened in 1972.
I am not going to open them up and flatten them out to scan them, but they are beautiful!!





WE ARE BUYING BUYING BUYING!!

IMPORTANT INFORMATION ABOUT ORDERING, AND FAQ



1972 Topps Baseball


To order, click on the price of the card you want. Select quantity when you go to the shopping cart. The shopping cart now works for AOL users!