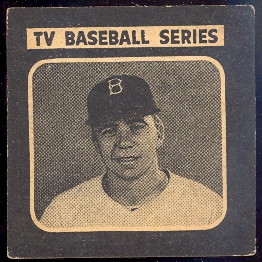 DAVE'S VINTAGE BASEBALL CARDS PRESENTS 1950 Drake's Baseball Cards
Entitled "TV Baseball Series" the 1950 Drake's Bakeries set pictures 36 different players on a television screen format. These cards are very rare.
The cards measure 2-1/2" X 2-1/2" and feature black and white photos surrounded by a black border.
Backs contain a short bio and advertisement for packages of oatmeal or jumble cookies.


WE ARE BUYING BUYING BUYING!!

IMPORTANT INFORMATION ABOUT ORDERING, AND FAQ