Dave's presents 1971 Topps Scratch-Offs

HAVE A COLLECTION TO SELL? were ALWAYS BUYING!! Call about your collection: 310 471 1959 or email at: gfg@gfg.com
SHORTCUTS TO OUR MORE POPULAR PAGES.
SPECIAL: 10% DISCOUNT ON ALL ORDERS OVER $30 EFFECTIVE JANUARY 1 2019 Until further notice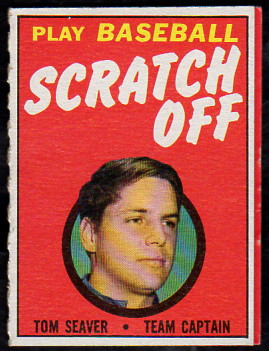 DAVE'S VINTAGE BASEBALL CARDS PRESENTS 1971 TOPPS SCRATCH-OFFS.

This 24 card Set featured booklets measuring 2-1/2" X 3-7/16", but unfold to 3-3/8" x 5" with Red background inside. The scratch-off game is played by rubbing the black off the playing squares to reveal the "action" and the backs have a scoreboard and instructions to play the game. The fronts have a players picture. Inserts with white centers are from 1970 and red centers from 1971.



WE ARE BUYING BUYING BUYING!!

IMPORTANT INFORMATION ABOUT ORDERING, AND FAQ


1970 Topps Scratch-Offs
1971 Topps Baseball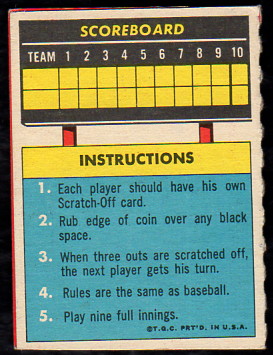 To order, click on the price of the card you want. Select quantity when you go to the shopping cart. The shopping cart now works for AOL users!

Note: cards graded VGEX and better are NOT scratched off inside


1971 Topps Baseball Scratch Offs
#
Description
Conditions

---

5
glenn beckert
(Chicago Cubs)

NM Better
NM
EXMT
EX
VGEX
VG
Good
Fair
--
1 in stock
$3.00/each
--
--
--
--
--
--
---
TOPPS & FLEER INSERT ITEMS AND FOOD BRANDS
INSERT ITEMS
FOOD BRANDS

MISCELLANEOUS ISSUES


VISIT OUR NEW FOOTBALL INSERTS, FOOD BRANDS & MISC ISSUE SECTION TOO!



search by sport, team, player, year and more!



We now Accept Paypal for all purchases.





10 Day Moneyback guarantee on all card sales.
You can email us at: gfg@gfg.com
or call us at 310-471-1959
NOTICE: IN THE INTEREST OF AVOIDING VIRUSES, IF YOU SEND EMAIL, AND LEAVE THE SUBJECT FIELD BLANK, YOUR EMAIL WILL PROBABLY BE DELETED.

Or send orders to:
Dave''s Vintage Baseball Cards
David Levin
p.o. box 251887
Los Angeles, California. 90025
USA
California shipments/sales will have Sales Tax added on at 8.75%
Orders under $20 are subject to an additional handling charge.
Card availability and prices subject to change.
Copyright © 1997 all rights reserved ! to Copyright © 2018 all rights reserved !