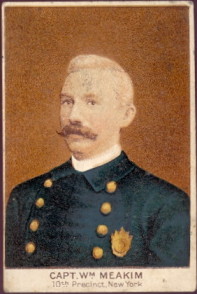 N288 Police Inspectors & Captains & Chiefs of the Fire Departments

Buchner took the 62 police inspector subjects with the Gold Coin fronts in the smaller N284 set and reproduced them in a larger size and in a slightly different format. In addition, 33 more subjects are known, mostly the same as the police inspectors that are found with glossy fronts in the N284 series.
The Lithographer is listed as Julius Bien on some cards and sterling and Wemble on others.
The copyright is 1887, but they may have come out a little later.

IMPORTANT INFORMATION ABOUT ORDERING, AND FAQ
We are always interested in buying any of the 19th century cards you may have.

We have gone to great detail to make high quality scans of each card. Therefore, you can take a look at each card to see if it fits your collection.
Feel free to let us know if you have any questions or need additional scans.

RETURN TO MAIN PAGE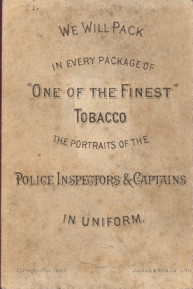 Return to Main page