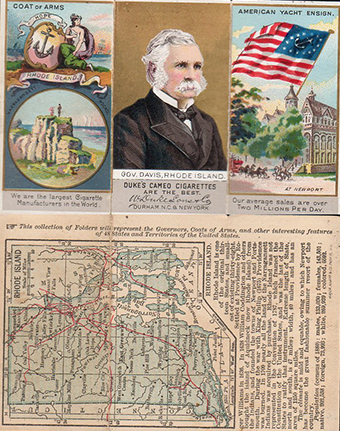 N133 State & Territorial Governors, and Coats of Arms

This set by Duke, similar to the N126 set, features two different types of cards, triple folders and solid cards, which feature three different sections on the cards.
They feature the Governor, and Coat of arms etc.
There are 48 cards in the set.
The solid cards are less common than the thinner triple folders.

These cards were included with W. Duke Sons & Co. Honest Long Cut.
The backs have an ad for Duke Honest Long Cut Tobacco.
These large cards measure 2-3/4" X 4-3/4".


IMPORTANT INFORMATION ABOUT ORDERING, AND FAQ
We are always interested in buying any of the 19th century cards you may have.

We have gone to great detail to make high quality scans of each card. Therefore, you can take a look at each card to see if it fits your collection.
Feel free to let us know if you have any questions or need additional scans.

RETURN TO MAIN PAGE
#
Description
Conditions

---

1
Alabama - Gov Seay (folder)
()

---

2
Arizona Ter - Gov Zulick
()

NM Better
NM
EXMT
EX
VGEX
VG
Good
Fair
--
--
--
--
--
--
--
1 in stock
$6.00/each

---

4
California - gov Waterman
()

NM Better
NM
EXMT
EX
VGEX
VG
Good
Fair
--
--
--
--
--
1 in stock
$12.50/each
--
--

---

6
Connecticut - Gov Lounsbury
()

NM Better
NM
EXMT
EX
VGEX
VG
Good
Fair
--
--
--
--
1 in stock
$19.00/each
--
--
--

---

12
Idaho Ter - Gov Stevenson
()

NM Better
NM
EXMT
EX
VGEX
VG
Good
Fair
--
--
--
--
--
1 in stock
$12.50/each
--
--

---

12-folder
Idaho Ter - Gov Stevenson
()

NM Better
NM
EXMT
EX
VGEX
VG
Good
Fair
--
--
1 in stock
$37.50/each
--
--
--
--
--

---

13
Illinois - Gov Oglesby
()

NM Better
NM
EXMT
EX
VGEX
VG
Good
Fair
--
--
--
--
--
1 in stock
$12.50/each
--
--

---

20
Maine - Gov Maine
()

NM Better
NM
EXMT
EX
VGEX
VG
Good
Fair
--
--
--
--
--
1 in stock
$12.50/each
--
--

---

23
Michigan - Gov Luce (folder)
()

NM Better
NM
EXMT
EX
VGEX
VG
Good
Fair
--
--
--
1 in stock
$25.00/each
--
--
--
--

---

25
Mississippi - Gov Lowry (folder)
()

NM Better
NM
EXMT
EX
VGEX
VG
Good
Fair
--
--
1 in stock
$37.50/each
--
--
--
--
--

---

26
Missouri - Gov Morehouse
()

NM Better
NM
EXMT
EX
VGEX
VG
Good
Fair
--
--
--
--
--
1 in stock
$12.50/each
--
--

---

27
Montana Terr - A Montana Cowboy (folder)
()

NM Better
NM
EXMT
EX
VGEX
VG
Good
Fair
--
--
--
--
--
1 in stock
$12.50/each
--
--

---

28
Nebraska - Gov Thayer
()

NM Better
NM
EXMT
EX
VGEX
VG
Good
Fair
--
--
--
--
--
1 in stock
$12.50/each
--
--

---

33
New York - Gov Hill (folder)
()

---

34
North Carolina - Gov Scales
()

NM Better
NM
EXMT
EX
VGEX
VG
Good
Fair
--
--
--
--
--
--
1 in stock
$10.00/each
--

---

35
Ohio - Gov Foraker
()

---

38
Rhode Island - Gov Davis (folder)
()

NM Better
NM
EXMT
EX
VGEX
VG
Good
Fair
--
--
--
1 in stock
$25.00/each
--
--
--
--

---

39
south carolina - Gov Richardson (folder)
()

NM Better
NM
EXMT
EX
VGEX
VG
Good
Fair
--
--
--
--
--
--
1 in stock
$20.00/each
--

---

40
Tennessee - Gov Taylor
()

NM Better
NM
EXMT
EX
VGEX
VG
Good
Fair
--
--
--
--
--
1 in stock
$12.50/each
--
--

---

44
Virginia - Gov Lee
()

NM Better
NM
EXMT
EX
VGEX
VG
Good
Fair
--
--
--
--
--
1 in stock
$12.50/each
--
--

---

45
Washington Ter - Gov Semple (folder)
()

NM Better
NM
EXMT
EX
VGEX
VG
Good
Fair
--
--
--
--
1 in stock
$19.00/each
--
--
--

---

48
Wyoming Ter - Gov Moonlight (folder)
()

NM Better
NM
EXMT
EX
VGEX
VG
Good
Fair
--
--
--
--
1 in stock
$19.00/each
--
--
--