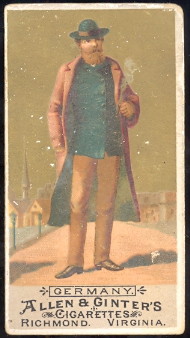 N16 Natives in Costume

Allen & Ginters N16 Natives in Costume. Issued around 1886, one of the earlier sets, The cards measure 1-1/2" X 2-3/4" and there are 50 in the series.
Each card has a checklist on the back.



IMPORTANT INFORMATION ABOUT ORDERING, AND FAQ
We are always interested in buying any of the 19th century cards you may have.

We have gone to great detail to make high quality scans of each card. Therefore, you can take a look at each card to see if it fits your collection.
Feel free to let us know if you have any questions or need additional scans.

RETURN TO MAIN PAGE