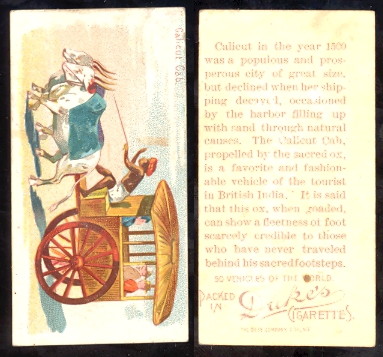 N90 Vehicles of the World

This Duke Series of 50 cards, from 1888, depicts different tyupes of horse-drawn vehicles, there were no cars at the time, from around the world. (antelope & oxen are popular as well) It was also put out by the goodwin & Co. Giles Co. did the lithography.
The back describes the vehicle, and advertises Dukes Cigarettes.


IMPORTANT INFORMATION ABOUT ORDERING, AND FAQ
We are always interested in buying any of the 19th century cards you may have.

We have gone to great detail to make high quality scans of each card. Therefore, you can take a look at each card to see if it fits your collection.
Feel free to let us know if you have any questions or need additional scans.

RETURN TO MAIN PAGE