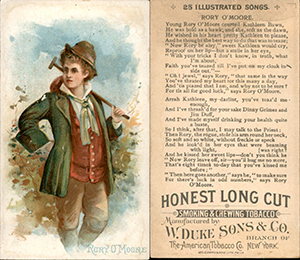 N116 ILLUSTRATED SONGS

This set by Duke, in about 1893, features 25 cards of mostly pretty women intended to represent songs of the day.
The lyrics were on the back along with an ad from Duke, and images, mostly of women on the front.
The cards were larger and measured 2-7/16" X 4-1/4".

These cards were included with W. Duke Sons & Co. Honest Long Cut.
The backs have an ad for Duke Honest Long Cut Tobacco.

IMPORTANT INFORMATION ABOUT ORDERING, AND FAQ
We are always interested in buying any of the 19th century cards you may have.

We have gone to great detail to make high quality scans of each card. Therefore, you can take a look at each card to see if it fits your collection.
Feel free to let us know if you have any questions or need additional scans.

RETURN TO MAIN PAGE
#
Description
Conditions

---

1
Annie Laurie
()

NM Better
NM
EXMT
EX
VGEX
VG
Good
Fair
--
--
--
--
--
--
1 in stock
$30.00/each
--

---

2
auld lang syne
()

NM Better
NM
EXMT
EX
VGEX
VG
Good
Fair
--
--
--
--
--
1 in stock
$36.00/each
--
--

---

4
dost thou love me sister ruth
()

NM Better
NM
EXMT
EX
VGEX
VG
Good
Fair
--
--
--
--
1 in stock
$48.00/each
--
--
--

---

5
the flowers that bloom
()

NM Better
NM
EXMT
EX
VGEX
VG
Good
Fair
--
--
--
--
--
--
1 in stock
$24.00/each
--

---

8
i cannot sing the old songs
()

NM Better
NM
EXMT
EX
VGEX
VG
Good
Fair
--
--
--
--
--
1 in stock
$36.00/each
--
--

---

9
in the starlight
()

NM Better
NM
EXMT
EX
VGEX
VG
Good
Fair
--
--
--
--
--
--
--
1 in stock
$18.00/each

---

11
the little fisher maiden
()

NM Better
NM
EXMT
EX
VGEX
VG
Good
Fair
--
--
--
--
--
--
1 in stock
$24.00/each
--

---

12
little maggie may
()

NM Better
NM
EXMT
EX
VGEX
VG
Good
Fair
--
--
--
--
--
--
1 in stock
$24.00/each
--

---

13
maid of athens
()

NM Better
NM
EXMT
EX
VGEX
VG
Good
Fair
--
--
--
--
--
--
--
1 in stock
$18.00/each

---

14
mignon
()

NM Better
NM
EXMT
EX
VGEX
VG
Good
Fair
--
--
--
--
--
--
1 in stock
$30.00/each
--

---

16
nancy lee
()

NM Better
NM
EXMT
EX
VGEX
VG
Good
Fair
--
--
--
--
--
--
--
1 in stock
$18.00/each

---

17
no sir
()

NM Better
NM
EXMT
EX
VGEX
VG
Good
Fair
--
--
--
--
--
--
--
1 in stock
$18.00/each

---

18
o fair dove
()

NM Better
NM
EXMT
EX
VGEX
VG
Good
Fair
--
--
--
--
--
--
1 in stock
$30.00/each
--

---

21
rory o moore
()

NM Better
NM
EXMT
EX
VGEX
VG
Good
Fair
--
--
--
--
--
1 in stock
$36.00/each
--
--

---

24
where are you going my pretty
()

NM Better
NM
EXMT
EX
VGEX
VG
Good
Fair
--
--
--
--
--
--
1 in stock
$24.00/each
--

---

25
yes sir
()

NM Better
NM
EXMT
EX
VGEX
VG
Good
Fair
--
--
--
--
1 in stock
$48.00/each
--
--
--