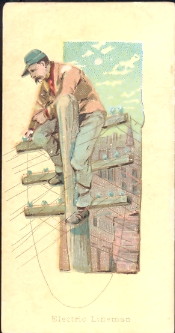 N86 Scenes of Perilous Occupations

W. Duke, Son & Co. Issued this popular set around 1888, The cards measure 1-7/16" X 2-3/4" and there are 50 in the series. They depict occupations, some of which are a bit of a stretch, that are dangerous. The backs have a brief story about the occupation and an ad for Duke. They are fun attractive cards.


IMPORTANT INFORMATION ABOUT ORDERING, AND FAQ
We are always interested in buying any of the 19th century cards you may have.

We have gone to great detail to make high quality scans of each card. Therefore, you can take a look at each card to see if it fits your collection.
Feel free to let us know if you have any questions or need additional scans.

RETURN TO MAIN PAGE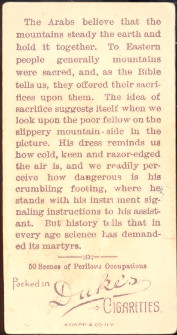 Return to Main page
#
Description
Conditions

---

1
arab attacked by a lion
()

NM Better
NM
EXMT
EX
VGEX
VG
Good
Fair
--
--
--
--
--
--
2 in stock
$15.00/each
--

---

2
the arctic exporer
()

NM Better
NM
EXMT
EX
VGEX
VG
Good
Fair
--
--
--
--
--
--
--
1 in stock
$9.00/each

---

6
bridge jumping
()

NM Better
NM
EXMT
EX
VGEX
VG
Good
Fair
--
--
--
--
1 in stock
$30.00/each
--
--
--

---

7
bull fighting in spain
()

NM Better
NM
EXMT
EX
VGEX
VG
Good
Fair
--
--
--
--
--
--
1 in stock
$15.00/each
--

---

8
chamois hunting
()

NM Better
NM
EXMT
EX
VGEX
VG
Good
Fair
--
--
--
--
--
--
1 in stock
$15.00/each
--

---

10
cowboy fleeing fire
()

NM Better
NM
EXMT
EX
VGEX
VG
Good
Fair
--
--
--
--
--
--
--
1 in stock
$7.50/each

---

11
the diver
()

NM Better
NM
EXMT
EX
VGEX
VG
Good
Fair
--
--
--
--
--
1 in stock
$22.50/each
--
--

---

14
exploring in africa
()

---

15
the fireman
()

NM Better
NM
EXMT
EX
VGEX
VG
Good
Fair
--
--
--
--
--
--
1 in stock
$15.00/each
--

---

18
hanging over cliffs
()

---

19
highwaymen
()

NM Better
NM
EXMT
EX
VGEX
VG
Good
Fair
--
--
--
--
--
1 in stock
$18.75/each
--
--

---

21
hunting the rocky mountain goat
()

NM Better
NM
EXMT
EX
VGEX
VG
Good
Fair
--
--
--
--
--
--
1 in stock
$15.00/each
--

---

22
indian netting salmon
()

---

25
knife throwing in circus
()

NM Better
NM
EXMT
EX
VGEX
VG
Good
Fair
--
--
--
--
--
1 in stock
$22.50/each
--
--

---

28
lumberman in michigan
()

NM Better
NM
EXMT
EX
VGEX
VG
Good
Fair
--
--
--
--
1 in stock
$30.00/each
--
--
--

---

30
miners descending a shaft
()

NM Better
NM
EXMT
EX
VGEX
VG
Good
Fair
--
--
--
--
--
1 in stock
$26.25/each
--
--

---

31
monk and dog
()

NM Better
NM
EXMT
EX
VGEX
VG
Good
Fair
--
--
--
--
--
1 in stock
$22.50/each
--
--

---

32
on a whaling voyage
()

NM Better
NM
EXMT
EX
VGEX
VG
Good
Fair
--
--
--
--
--
--
--
1 in stock
$7.50/each

---

33
on board a battleship
()

NM Better
NM
EXMT
EX
VGEX
VG
Good
Fair
--
--
--
--
--
--
--
1 in stock
$7.50/each

---

34
painters at work
()

NM Better
NM
EXMT
EX
VGEX
VG
Good
Fair
--
--
--
--
--
--
1 in stock
$15.00/each
--

---

36
the pickets death
()

NM Better
NM
EXMT
EX
VGEX
VG
Good
Fair
--
--
--
--
--
--
--
1 in stock
$13.50/each

---

39
safe robber
()

---

43
surveying in the mountains
()

---

45
a tough beat for any policeman
()

NM Better
NM
EXMT
EX
VGEX
VG
Good
Fair
--
--
--
--
--
1 in stock
$22.50/each
--
--

---

47
traveling in siberia
()

NM Better
NM
EXMT
EX
VGEX
VG
Good
Fair
--
--
--
--
--
--
--
1 in stock
$7.50/each

---

50
yardman coupling cars
()

NM Better
NM
EXMT
EX
VGEX
VG
Good
Fair
--
--
--
--
--
--
1 in stock
$15.00/each
--