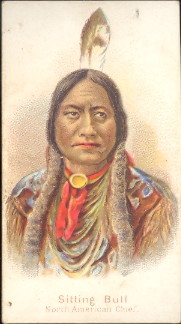 N189 Savage and semi-barbarous chiefs and rulers
One of Kimballs most popular series, this 50 card set has rulers and chiefs from around the world who were known as war leaders or battle veterans. The famous Native Americans such as Sitting Bull command a premium!
These measure 1-1/2" X 2-11/16", and have a checklist and ad for kimball & co. cigarettes on the back.


IMPORTANT INFORMATION ABOUT ORDERING, AND FAQ
We are always interested in buying any of the 19th century cards you may have.

We have gone to great detail to make high quality scans of each card. Therefore, you can take a look at each card to see if it fits your collection.
Feel free to let us know if you have any questions or need additional scans.

RETURN TO MAIN PAGE

SPECIAL NOTE: WE MAY HAVE A COMPLETE SET OF THESE, GIVE US A CALL IF YOU ARE INTERESTED.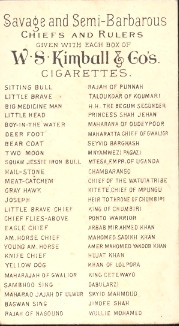 Return to Main page
#
Description
Conditions

---

1
amer mohamed yakoob khan
()

NM Better
NM
EXMT
EX
VGEX
VG
Good
Fair
--
--
--
--
1 in stock
$45.60/each
--
--
--

---

2
american horse
()

NM Better
NM
EXMT
EX
VGEX
VG
Good
Fair
--
--
--
1 in stock
$75.00/each
--
--
--
--

---

4
bagwan sing
()

NM Better
NM
EXMT
EX
VGEX
VG
Good
Fair
--
--
--
1 in stock
$60.00/each
--
--
--
--

---

5
bear coat
()

NM Better
NM
EXMT
EX
VGEX
VG
Good
Fair
--
--
--
--
--
--
1 in stock
$37.50/each
--

---

7
boy-in-the-water
()

NM Better
NM
EXMT
EX
VGEX
VG
Good
Fair
--
--
--
--
--
2 in stock
$50.00/each
--
--

---

9
chief of the watutu tribe
()

---

14
gray hawk
()

NM Better
NM
EXMT
EX
VGEX
VG
Good
Fair
--
--
--
1 in stock
$87.50/each
--
--
--
--

---

15
hail stone
()

NM Better
NM
EXMT
EX
VGEX
VG
Good
Fair
--
--
--
--
--
--
1 in stock
$40.00/each
--

---

18
her highness the begum segunder
()

NM Better
NM
EXMT
EX
VGEX
VG
Good
Fair
--
--
--
--
--
--
1 in stock
$36.00/each
--

---

22
king cetewayo
()

---

24
kitete, chief of mpungu
()

NM Better
NM
EXMT
EX
VGEX
VG
Good
Fair
--
--
--
1 in stock
$70.00/each
--
--
--
--

---

25
knife
()

---

26
little brave-north-american chief (black&white)
()

---

29
majarajah of gwalior
()

NM Better
NM
EXMT
EX
VGEX
VG
Good
Fair
--
--
--
--
--
1 in stock
$35.00/each
--
--

---

30
maharana of qudeypoor
()

NM Better
NM
EXMT
EX
VGEX
VG
Good
Fair
--
--
--
--
1 in stock
$45.60/each
--
--
--

---

31
maharao jajah of ulwur
()

NM Better
NM
EXMT
EX
VGEX
VG
Good
Fair
--
--
--
--
--
1 in stock
$30.00/each
--
--

---

35
mnyamwezi pagazi
()

NM Better
NM
EXMT
EX
VGEX
VG
Good
Fair
--
--
--
--
--
1 in stock
$30.00/each
--
--

---

36
mtesa
()

NM Better
NM
EXMT
EX
VGEX
VG
Good
Fair
--
--
--
1 in stock
$60.00/each
--
--
--
--

---

39
rajah of nagound
()

NM Better
NM
EXMT
EX
VGEX
VG
Good
Fair
--
--
--
--
--
1 in stock
$30.00/each
--
--

---

40
rajah of punnah
()

---

43
SITTING BULL
()

NM Better
NM
EXMT
EX
VGEX
VG
Good
Fair
--
--
--
2 in stock
$150.00/each
--
--
--
--

---

49
yellow dog
()

NM Better
NM
EXMT
EX
VGEX
VG
Good
Fair
--
--
1 in stock
$135.00/each
--
--
--
--
--