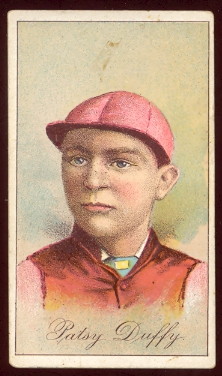 N284-3 Buchner Gold Coin Jockeys

Buchner Gold Coin tobacco issued a large set of tobacco cards in 1887. There are approximately 325 cards in the set which includes 143 Baseball players, 103 Police Inspectors, 31 Jockeys, and 41 Actors. These Jockey cards are designated N284-3 and there are 31 known subjects. Isaac Murphy is the key card in the jockey set. The cards measure 1-3/4" by 3" and feature color portraits of the famous Jockeys. The backs have an ad for Gold Coin Chewing Tobacco.


IMPORTANT INFORMATION ABOUT ORDERING, AND FAQ
We are always interested in buying any of the 19th century cards you may have.

We have gone to great detail to make high quality scans of each card. Therefore, you can take a look at each card to see if it fits your collection.
Feel free to let us know if you have any questions or need additional scans.

RETURN TO MAIN PAGE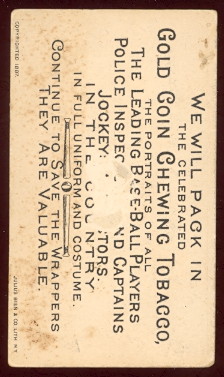 Return to Main page