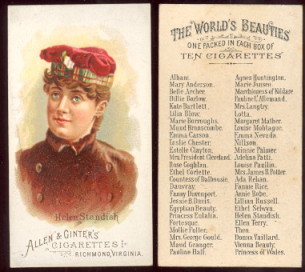 N26 1st series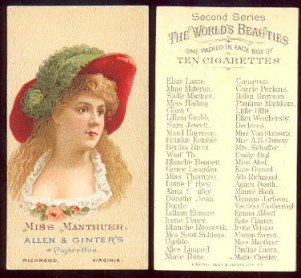 N27 second series

Allen & Ginters N26 The Worlds Beauties (1st series) and N27 The Worlds Beauties (2nd series). Issued around 1888, The cards measure 1-1/2" X 2-3/4" and there are 50 in the series.
The cards have an unnumbered checklist on the back.
Famous actresses, the set did very well so Allen & Ginter issues a second series shortly after the first series, they say (second series) on the top of the back.


IMPORTANT INFORMATION ABOUT ORDERING, AND FAQ
We are always interested in buying any of the 19th century cards you may have.

We have gone to great detail to make high quality scans of each card. Therefore, you can take a look at each card to see if it fits your collection.
Feel free to let us know if you have any questions or need additional scans.

RETURN TO MAIN PAGE
#
Description
Conditions

---

4
miss billie barlow
()

---

8
ms. maud branscombe
()

NM Better
NM
EXMT
EX
VGEX
VG
Good
Fair
--
--
--
--
1 in stock
$22.50/each
--
--
--

---

10
leslie chester
()

NM Better
NM
EXMT
EX
VGEX
VG
Good
Fair
--
--
--
--
--
--
--
1 in stock
$5.00/each

---

14
Ethel Corlette
()

NM Better
NM
EXMT
EX
VGEX
VG
Good
Fair
--
--
--
--
--
--
1 in stock
$12.50/each
--

---

15
Countess of Dalhousie
()

NM Better
NM
EXMT
EX
VGEX
VG
Good
Fair
--
--
--
--
--
--
1 in stock
$10.00/each
--

---

16
Dauvray
()

NM Better
NM
EXMT
EX
VGEX
VG
Good
Fair
--
--
--
--
--
--
1 in stock
$10.00/each
--

---

24
maud granger
()

---

32
Margaret Mather
()

NM Better
NM
EXMT
EX
VGEX
VG
Good
Fair
--
--
--
--
--
--
--
1 in stock
$5.00/each

---

35
Nillson
()

NM Better
NM
EXMT
EX
VGEX
VG
Good
Fair
--
--
--
--
--
--
1 in stock
$10.00/each
--

---

37
Adelina Patti
()

NM Better
NM
EXMT
EX
VGEX
VG
Good
Fair
--
--
--
--
--
--
--
1 in stock
$5.00/each

---

40
ada rehan
()

NM Better
NM
EXMT
EX
VGEX
VG
Good
Fair
--
--
--
--
--
--
--
1 in stock
$9.00/each

---

41
Miss Fannie Rice
()

NM Better
NM
EXMT
EX
VGEX
VG
Good
Fair
--
--
--
--
--
--
--
1 in stock
$7.50/each

---

42
Annia Robe
()

NM Better
NM
EXMT
EX
VGEX
VG
Good
Fair
--
--
--
--
--
--
--
1 in stock
$5.00/each

---

44
Miss Ethel Selwyn
()

NM Better
NM
EXMT
EX
VGEX
VG
Good
Fair
--
--
--
--
--
--
--
1 in stock
$5.00/each

---

45
Helen Standish
()

---

46
Miss Ellen Terry
()

NM Better
NM
EXMT
EX
VGEX
VG
Good
Fair
--
--
--
--
--
--
--
1 in stock
$5.00/each
#
Description
Conditions

---

7
cameron
()

NM Better
NM
EXMT
EX
VGEX
VG
Good
Fair
--
--
--
--
--
--
--
1 in stock
$9.00/each

---

9
Marie Chester
()

NM Better
NM
EXMT
EX
VGEX
VG
Good
Fair
--
--
--
--
--
--
--
1 in stock
$4.00/each

---

16
lottie forbes
()

NM Better
NM
EXMT
EX
VGEX
VG
Good
Fair
--
--
--
--
--
--
--
1 in stock
$5.00/each

---

20
Miss Hading
()

NM Better
NM
EXMT
EX
VGEX
VG
Good
Fair
--
--
--
--
--
--
1 in stock
$10.00/each
--

---

23
vernona jarbeau
()

NM Better
NM
EXMT
EX
VGEX
VG
Good
Fair
--
--
--
--
--
--
1 in stock
$12.50/each
--

---

25
frankie kemble
()

NM Better
NM
EXMT
EX
VGEX
VG
Good
Fair
--
--
--
--
--
--
--
1 in stock
$7.50/each

---

31
miss manthuer
()

NM Better
NM
EXMT
EX
VGEX
VG
Good
Fair
--
--
--
--
--
--
1 in stock
$12.50/each
--

---

34
Mme Materna
()

NM Better
NM
EXMT
EX
VGEX
VG
Good
Fair
--
--
--
--
--
--
--
1 in stock
$5.00/each

---

35
carrie perkins
()

NM Better
NM
EXMT
EX
VGEX
VG
Good
Fair
--
--
--
--
--
--
1 in stock
$12.50/each
--

---

36
Irene Perry
()

NM Better
NM
EXMT
EX
VGEX
VG
Good
Fair
--
--
--
--
--
--
1 in stock
$12.50/each
--

---

42
mrs schaffer
()

NM Better
NM
EXMT
EX
VGEX
VG
Good
Fair
--
--
--
--
--
--
--
1 in stock
$5.00/each

---

43
Mrs Scott Siddons
()

NM Better
NM
EXMT
EX
VGEX
VG
Good
Fair
--
--
--
--
--
--
--
1 in stock
$5.00/each

---

47
Ugalde
()

NM Better
NM
EXMT
EX
VGEX
VG
Good
Fair
--
--
--
--
--
--
--
1 in stock
$4.00/each

---

48
irene verona
()

NM Better
NM
EXMT
EX
VGEX
VG
Good
Fair
--
--
--
--
--
--
--
1 in stock
$9.00/each

---

50
Eliza Weathersby
()

NM Better
NM
EXMT
EX
VGEX
VG
Good
Fair
--
--
--
--
--
--
--
1 in stock
$5.00/each