HAVE A COLLECTION TO SELL? were ALWAYS BUYING!! Call about your collection: 310 471 1959 or email at: gfg@gfg.com
SHORTCUTS TO OUR MORE POPULAR PAGES.
SPECIAL: 10% DISCOUNT ON ALL ORDERS OVER $30 EFFECTIVE JANUARY 1 2019 Until further notice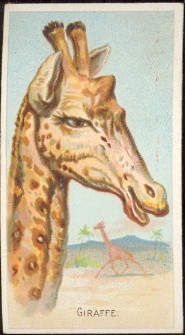 N25 Wild Animals of the World


Allen & Ginters N25 Wild Animals of the World. Issued around 1888, The cards measure 1-1/2" X 2-3/4" and there are 50 in the series.
The cards have an unnumbered checklist on the back.
The fronts just show the head of the different animals with intersting expressions on each.


IMPORTANT INFORMATION ABOUT ORDERING, AND FAQ
We are always interested in buying any of the 19th century cards you may have.

We have gone to great detail to make high quality scans of each card. Therefore, you can take a look at each card to see if it fits your collection.
Feel free to let us know if you have any questions or need additional scans.

RETURN TO MAIN PAGE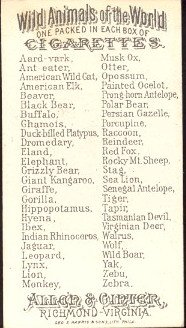 Return to Main page
1888 Allen & Ginter N25 Wild Animals of the World
#
Description
Conditions

---

37
rocky mountain sheep
()

NM Better
NM
EXMT
EX
VGEX
VG
Good
Fair
--
--
--
--
--
1 in stock
$8.75/each
--
--

---

42
tapir
()

NM Better
NM
EXMT
EX
VGEX
VG
Good
Fair
--
--
--
--
--
--
1 in stock
$7.00/each
--
---
LISTS OF 19TH CENTURY CARDS FOR SALE!
We now Accept Paypal for all purchases.





10 Day Moneyback guarantee on all card sales.
You can email us at: gfg@gfg.com
or call us at 310-471-1959
NOTICE: IN THE INTEREST OF AVOIDING VIRUSES, IF YOU SEND EMAIL, AND LEAVE THE SUBJECT FIELD BLANK, YOUR EMAIL WILL PROBABLY BE DELETED.

Or send orders to:
Dave''s Vintage Baseball Cards
David Levin
p.o. box 251887
Los Angeles, California. 90025
USA
California shipments/sales will have Sales Tax added on at 8.75%
Orders under $20 are subject to an additional handling charge.
Card availability and prices subject to change.
Copyright © 1997 all rights reserved ! to Copyright © 2018 all rights reserved !