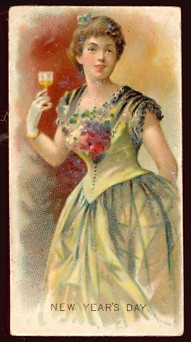 N80 Holidays

W. Duke, Son & Co. Issued this popular set around 1890. These cards measure 1-7/16" X 2-3/4" and there are 50 in the series. The series shows a person from a particular Country in native dress celebrating an important Holiday for that Country. The backs have the title of the series, a description of the Holiday and the historyof its tradition, as well as an ad for W. Duke, sons & Co. The Goodwin & Co. also produced this Series with brand advertising with Old Judge and Dog's Head Cigarettes.


IMPORTANT INFORMATION ABOUT ORDERING, AND FAQ
We are always interested in buying any of the 19th century cards you may have.

We have gone to great detail to make high quality scans of each card. Therefore, you can take a look at each card to see if it fits your collection.
Feel free to let us know if you have any questions or need additional scans.

RETURN TO MAIN PAGE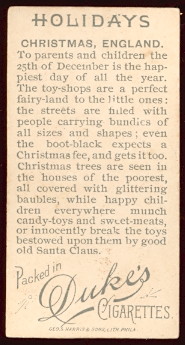 #
Description
Conditions

---

1
annual fete
()

NM Better
NM
EXMT
EX
VGEX
VG
Good
Fair
--
--
--
--
--
--
1 in stock
$12.00/each
--

---

2
battle of sedan
(germany)

---

3
burmese festival-india
()

NM Better
NM
EXMT
EX
VGEX
VG
Good
Fair
--
--
--
--
--
--
1 in stock
$12.00/each
--

---

7
chinese new years
()

NM Better
NM
EXMT
EX
VGEX
VG
Good
Fair
--
--
--
--
--
1 in stock
$15.00/each
--
--

---

12
derby day-england
()

NM Better
NM
EXMT
EX
VGEX
VG
Good
Fair
--
--
--
--
--
--
--
1 in stock
$6.00/each

---

13
emperors birthday-austria
()

NM Better
NM
EXMT
EX
VGEX
VG
Good
Fair
--
--
--
--
--
--
1 in stock
$12.00/each
--

---

15
fair day-wales
()

NM Better
NM
EXMT
EX
VGEX
VG
Good
Fair
--
--
--
--
1 in stock
$27.00/each
--
--
--

---

16
feast of guadelupe-mexico
()

NM Better
NM
EXMT
EX
VGEX
VG
Good
Fair
--
--
--
1 in stock
$30.00/each
--
--
--
--

---

17
first footing-scotland
()

NM Better
NM
EXMT
EX
VGEX
VG
Good
Fair
--
--
--
--
--
--
--
1 in stock
$6.00/each

---

20
forefathers day-u.s.
()

NM Better
NM
EXMT
EX
VGEX
VG
Good
Fair
--
--
--
--
--
--
1 in stock
$12.00/each
--

---

23
franco-german treaty
()

NM Better
NM
EXMT
EX
VGEX
VG
Good
Fair
--
--
--
--
--
--
1 in stock
$12.00/each
--

---

30
idol worship-easter island
()

NM Better
NM
EXMT
EX
VGEX
VG
Good
Fair
--
--
--
--
--
--
1 in stock
$12.00/each
--

---

33
kings birthday-the netherlands
()

NM Better
NM
EXMT
EX
VGEX
VG
Good
Fair
--
--
--
--
--
--
1 in stock
$12.00/each
--

---

36
new years day
(U.S.A.)

NM Better
NM
EXMT
EX
VGEX
VG
Good
Fair
--
--
--
--
--
--
2 in stock
$12.00/each
--

---

37
new year - Netherlands
(netherlands)

NM Better
NM
EXMT
EX
VGEX
VG
Good
Fair
--
--
--
--
--
1 in stock
$15.00/each
--
--

---

39
pardon day
(france)

NM Better
NM
EXMT
EX
VGEX
VG
Good
Fair
--
--
--
--
--
--
2 in stock
$12.00/each
--

---

40
parliament day
(japan)

NM Better
NM
EXMT
EX
VGEX
VG
Good
Fair
--
--
--
--
--
--
1 in stock
$12.00/each
--

---

41
reformation day-germany
()

NM Better
NM
EXMT
EX
VGEX
VG
Good
Fair
--
--
--
--
1 in stock
$24.00/each
--
--
--

---

49
25th of july
(spain)