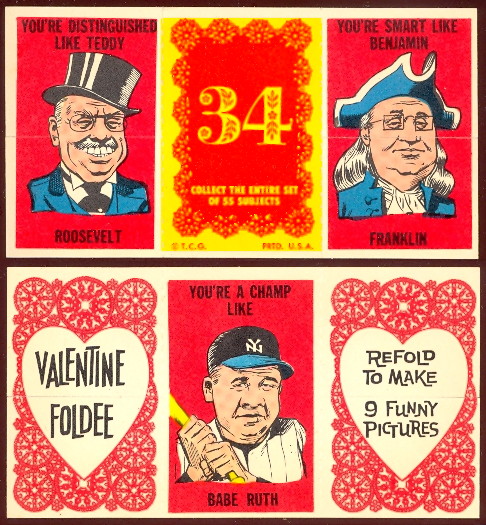 The 1963 Topps Valentine Foldees feature comical color drawings in a three panel format. The cards were meant to be folded in various ways and finding them in higher grade is difficult. Some of the famous people pictured include Babe Ruth (shown on 2 cards) John F. Kennedy, Jackie Kennedy, Caroline Kennedy, Richard Nixon, Dwight Eisenhower, Winston Churchill, Queen Elizabeth, Abraham Lincoln, George Washington, Franklin D. Roosevelt, Elvis Presley, Prince Charles, Thomas Edison, Cleopatra, Teddy Roosevelt, Benjamin Franklin, W.C. Fields, John D. Rockefeller, Sitting Bull, John L. Sullivan, and others. The set contains 55 cards and the cards measure 2-1/2" by 4-5/8".




WE ARE BUYING BUYING BUYING!!

IMPORTANT INFORMATION ABOUT ORDERING, AND FAQ





RETURN TO THE NON-SPORTS PAGE

.
#
Description
Conditions

---

3
you're as cute as a 6 year old - Jesse James
()

NM Better
NM
EXMT
EX
VGEX
VG
Good
Fair
--
1 in stock
$20.00/each
--
--
--
--
--
--

---

4
U.S. Senators will meet
()

NM Better
NM
EXMT
EX
VGEX
VG
Good
Fair
--
--
1 in stock
$15.00/each
--
--
--
--
--

---

5
Your skin is as smooth
()

NM Better
NM
EXMT
EX
VGEX
VG
Good
Fair
--
--
1 in stock
$15.00/each
--
--
--
--
--

---

8
You make my heart beat
()

NM Better
NM
EXMT
EX
VGEX
VG
Good
Fair
--
--
1 in stock
$15.00/each
--
--
--
--
--

---

9
You're a cute skinny kid
()

NM Better
NM
EXMT
EX
VGEX
VG
Good
Fair
--
1 in stock
$20.00/each
--
--
--
--
--
--

---

10
Use Joan's soap
()

NM Better
NM
EXMT
EX
VGEX
VG
Good
Fair
--
--
1 in stock
$15.00/each
--
--
--
--
--

---

12
Use Jones' ointment
()

NM Better
NM
EXMT
EX
VGEX
VG
Good
Fair
--
1 in stock
$20.00/each
--
--
--
--
--
--

---

14
Daredevil dives 150 feet
()

NM Better
NM
EXMT
EX
VGEX
VG
Good
Fair
--
--
1 in stock
$15.00/each
--
--
--
--
--

---

15
I love to sink my teeth
()

NM Better
NM
EXMT
EX
VGEX
VG
Good
Fair
--
1 in stock
$20.00/each
--
--
--
--
--
--

---

17
Stick pictures on your wall
()

NM Better
NM
EXMT
EX
VGEX
VG
Good
Fair
--
1 in stock
$20.00/each
--
--
--
--
--
--

---

19
Muriel eye wash
()

NM Better
NM
EXMT
EX
VGEX
VG
Good
Fair
--
--
1 in stock
$15.00/each
--
--
--
--
--

---

24
I love your adorable teeth
()

NM Better
NM
EXMT
EX
VGEX
VG
Good
Fair
--
1 in stock
$20.00/each
--
--
--
--
--
--

---

27
Talent contest winner
()

NM Better
NM
EXMT
EX
VGEX
VG
Good
Fair
--
1 in stock
$20.00/each
--
--
--
--
--
--

---

28
You're fast as a galloping horse
()

NM Better
NM
EXMT
EX
VGEX
VG
Good
Fair
--
1 in stock
$20.00/each
--
--
--
--
--
--

---

31
Jackie Kennedy, Roosevelt, Eisenhower
()

NM Better
NM
EXMT
EX
VGEX
VG
Good
Fair
--
1 in stock
$28.00/each
--
--
--
--
--
--

---

37
A tornado blows down
()

NM Better
NM
EXMT
EX
VGEX
VG
Good
Fair
--
1 in stock
$20.00/each
--
--
--
--
--
--

---

38
You're wise as an old
()

NM Better
NM
EXMT
EX
VGEX
VG
Good
Fair
--
1 in stock
$20.00/each
--
--
--
--
--
--

---

39
Kill off pesty rodents
()

NM Better
NM
EXMT
EX
VGEX
VG
Good
Fair
--
1 in stock
$20.00/each
--
--
--
--
--
--

---

40
Principal asks help
()

NM Better
NM
EXMT
EX
VGEX
VG
Good
Fair
--
1 in stock
$20.00/each
--
--
--
--
--
--

---

45
Marry me and we will
()

NM Better
NM
EXMT
EX
VGEX
VG
Good
Fair
--
1 in stock
$20.00/each
--
--
--
--
--
--

---

46
You're as fearless as
()

NM Better
NM
EXMT
EX
VGEX
VG
Good
Fair
--
--
1 in stock
$15.00/each
--
--
--
--
--

---

47
You look like a beautiful
()

NM Better
NM
EXMT
EX
VGEX
VG
Good
Fair
--
1 in stock
$20.00/each
--
--
--
--
--
--

---

48
I'd love to take you driving
()

NM Better
NM
EXMT
EX
VGEX
VG
Good
Fair
--
1 in stock
$20.00/each
--
--
--
--
--
--

---

52
You look so manly when
()

NM Better
NM
EXMT
EX
VGEX
VG
Good
Fair
--
1 in stock
$20.00/each
--
--
--
--
--
--

---

53
For valentine's day I'd like
()

NM Better
NM
EXMT
EX
VGEX
VG
Good
Fair
--
1 in stock
$20.00/each
--
--
--
--
--
--

---

55
When I see you I think of
()

NM Better
NM
EXMT
EX
VGEX
VG
Good
Fair
--
1 in stock
$20.00/each
--
--
--
--
--
--