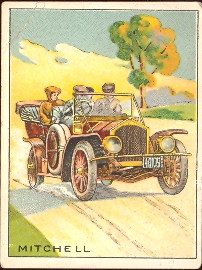 T37 Turkey Red Automobiles

This 50 card set was issued in 1910 by Turkey Red Turkish Cigarettes by The American Tobacco Co.
Cards measured 2" x 2-5/8" and were colorful images of early automobiles of the day, ie. Cadillac, Buick, Ford, Mercedes, etc.


IMPORTANT INFORMATION ABOUT ORDERING, AND FAQ
We are always interested in buying any of the 20th century cards you may have.


Feel free to let us know if you have any questions or need additional scans.

RETURN TO MAIN PAGE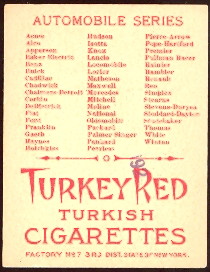 #
Description
Conditions

---

3
apperson
()

NM Better
NM
EXMT
EX
VGEX
VG
Good
Fair
--
--
--
1 in stock
$20.00/each
--
--
--
--

---

4
baker electric
()

NM Better
NM
EXMT
EX
VGEX
VG
Good
Fair
--
--
--
1 in stock
$20.00/each
--
--
--
--

---

9
chalmers detroit
()

NM Better
NM
EXMT
EX
VGEX
VG
Good
Fair
--
--
--
--
--
1 in stock
$12.00/each
--
--

---

11
de dietrich
()

NM Better
NM
EXMT
EX
VGEX
VG
Good
Fair
--
--
--
1 in stock
$20.00/each
--
--
--
--

---

13
ford
()

NM Better
NM
EXMT
EX
VGEX
VG
Good
Fair
--
--
--
--
1 in stock
$16.00/each
--
--
--

---

14
franklin
()

NM Better
NM
EXMT
EX
VGEX
VG
Good
Fair
--
--
--
--
1 in stock
$16.00/each
--
--
--

---

17
hotchkiss racer
()

NM Better
NM
EXMT
EX
VGEX
VG
Good
Fair
--
--
--
--
--
1 in stock
$12.00/each
--
--

---

18
hudson
()

NM Better
NM
EXMT
EX
VGEX
VG
Good
Fair
--
--
--
--
1 in stock
$16.00/each
--
--
--

---

27
mitchell
()

NM Better
NM
EXMT
EX
VGEX
VG
Good
Fair
--
--
--
1 in stock
$20.00/each
--
--
--
--

---

38
pullman racer
()

NM Better
NM
EXMT
EX
VGEX
VG
Good
Fair
--
--
--
1 in stock
$20.00/each
--
--
--
--

---

41
renault
()

NM Better
NM
EXMT
EX
VGEX
VG
Good
Fair
--
--
--
1 in stock
$20.00/each
--
--
--
--

---

45
stevens duryea
()

NM Better
NM
EXMT
EX
VGEX
VG
Good
Fair
--
--
1 in stock
$30.00/each
--
--
--
--
--

---

49
white steamer
()

NM Better
NM
EXMT
EX
VGEX
VG
Good
Fair
--
--
--
--
1 in stock
$16.00/each
--
--
--