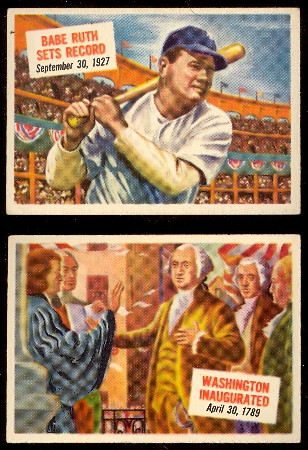 The 1954 Topps Scoop set features headlines from history in a newspaper type format. The set contains 156 cards; series 1 numbered from 1-78 and series 2 numbered from 79-156. The second series is more scarce. The set contains several sports stars including Babe Ruth, Bob Feller, Joe Louis, Jack Dempsey, Ben Hogan, and Jessie Owens. Other cards feature presidents, kings and queens, inventors, Indians, pirates, and other historical figures. The cards were originally issued with 2 black bands across the front which was meant to be scratched off to show the entire card. The cards measure 2" x 2-7/8" in size.



WE ARE BUYING BUYING BUYING!!

IMPORTANT INFORMATION ABOUT ORDERING, AND FAQ


RETURN TO THE NON-SPORTS PAGE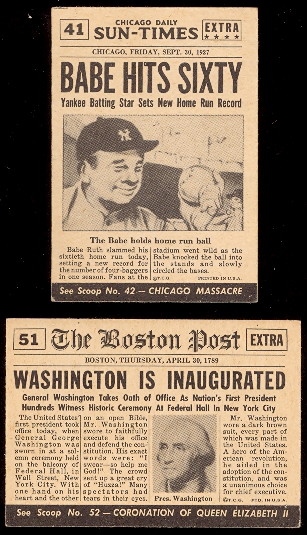 .
#
Description
Conditions

---

5
Lusitania Sinks
()

NM Better
NM
EXMT
EX
VGEX
VG
Good
Fair
--
--
--
--
--
--
1 in stock
$4.00/each
--

---

8-coat
Alamo Falls - Mar 6 1836 (coated strips)
()

NM Better
NM
EXMT
EX
VGEX
VG
Good
Fair
--
--
--
1 in stock
$50.00/each
--
--
--
--

---

14
President McKinley Shot - Sept 6 1901
()

NM Better
NM
EXMT
EX
VGEX
VG
Good
Fair
--
--
--
--
1 in stock
$9.60/each
--
--
--

---

15-coat
First Flight Wright Bro's - (coated strips)
()

NM Better
NM
EXMT
EX
VGEX
VG
Good
Fair
--
1 in stock
$100.00/each
--
--
--
--
--
--

---

16-coat
D-Day on Normandy (coated strips)
()

NM Better
NM
EXMT
EX
VGEX
VG
Good
Fair
--
1 in stock
$100.00/each
--
--
--
--
--
--

---

25
King Edward Abdicates - Dec 11 1936
()

NM Better
NM
EXMT
EX
VGEX
VG
Good
Fair
--
--
--
--
1 in stock
$8.00/each
--
--
--

---

26-coat
Atlantic Charter Drafted (coated strips)
()

NM Better
NM
EXMT
EX
VGEX
VG
Good
Fair
--
--
--
1 in stock
$60.00/each
--
--
--
--

---

27
Bob Feller Strikeout King - Oct 2 1938
(Cleveland Indians)

---

27-coat
Bob Feller Strikeout King - (coated strips)
(Cleveland Indians)

NM Better
NM
EXMT
EX
VGEX
VG
Good
Fair
--
--
--
--
--
1 in stock
$120.00/each
--
--

---

31
Roosevelt Wins 4th Term - Nov 7 1944
()

NM Better
NM
EXMT
EX
VGEX
VG
Good
Fair
--
--
--
1 in stock
$14.00/each
--
--
--
--

---

39
Dempsey Defeats Williard - July 4 1919
()

NM Better
NM
EXMT
EX
VGEX
VG
Good
Fair
--
--
--
1 in stock
$50.00/each
--
--
--
--

---

40
Joe Louis New Champ - June 22 1937
()

---

41
Babe Ruth Sets Record - Sept 30 1927
(New York Yankees)

NM Better
NM
EXMT
EX
VGEX
VG
Good
Fair
--
--
1 in stock
$750.00/each
--
--
--
--
--

---

43
Normandie Capsizes
()

NM Better
NM
EXMT
EX
VGEX
VG
Good
Fair
--
--
--
--
--
1 in stock
$5.00/each
--
--

---

51
Washington Inaugurated - Apr 30 1789
()

NM Better
NM
EXMT
EX
VGEX
VG
Good
Fair
--
--
--
--
--
1 in stock
$12.50/each
--
--

---

54-coat
Stock Market Crashes (coated strips)
()

NM Better
NM
EXMT
EX
VGEX
VG
Good
Fair
--
--
--
--
--
1 in stock
$35.00/each
--
--

---

67
Korea Truce Signed
()

NM Better
NM
EXMT
EX
VGEX
VG
Good
Fair
--
--
--
--
--
--
1 in stock
$4.00/each
--

---

69
Piccard Descends 2 Miles under Sea
()

NM Better
NM
EXMT
EX
VGEX
VG
Good
Fair
--
--
--
--
--
1 in stock
$5.00/each
--
--

---

72
Ederle Swims Channel
()

NM Better
NM
EXMT
EX
VGEX
VG
Good
Fair
--
--
--
--
--
--
1 in stock
$4.00/each
--

---

74
Mussolini Dead
()

NM Better
NM
EXMT
EX
VGEX
VG
Good
Fair
--
--
--
--
--
1 in stock
$7.20/each
--
--