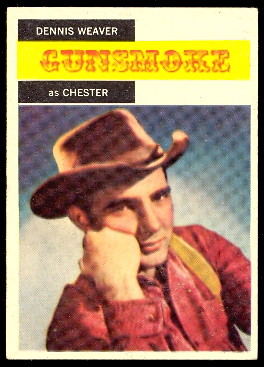 The 1958 Topps TV Westerns set showcases the very popular Western television shows of the late 1950's-1960's. The cards feature scenes from Gunsmoke, Trackdown, Wanted: Dead or Alive, Have Gun Will Travel, Yancy Derringer, Union Pacific, Wagon Train, The Restless Gun, Tales of Wells Fargo, Boots & Saddles, and The Californians. Stars in the set include Steve McQueen, James Arness, Dennis Weaver, Robert Culp, and Dale Robertson. The complete set contains 71 cards and the cards measure 2-1/2" x 3-1/2" in size. The fronts feature color photographs from the TV Western series along with the series title and caption. The backs have wood grain borders with card descriptions. Also an advertisement for the TV series appears at the bottom of the reverse.



WE ARE BUYING BUYING BUYING!!

IMPORTANT INFORMATION ABOUT ORDERING, AND FAQ


RETURN TO THE NON-SPORTS PAGE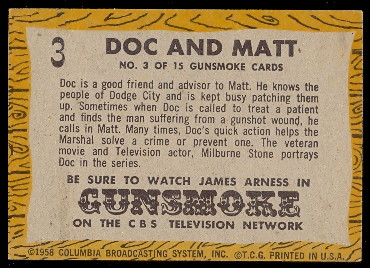 .
#
Description
Conditions

---

4
Gunsmoke Man of Justice w/ Arness
()

NM Better
NM
EXMT
EX
VGEX
VG
Good
Fair
--
--
--
1 in stock
$6.00/each
--
--
--
--

---

17
Trackdown Search for Clues
()

NM Better
NM
EXMT
EX
VGEX
VG
Good
Fair
--
1 in stock
$12.00/each
--
--
--
--
--
--

---

19
Trackdown Fierce Battle
()

NM Better
NM
EXMT
EX
VGEX
VG
Good
Fair
--
--
--
--
--
1 in stock
$3.60/each
--
--

---

20
Trackdown The Pursuit
()

NM Better
NM
EXMT
EX
VGEX
VG
Good
Fair
--
--
--
--
1 in stock
$4.80/each
--
--
--

---

32
Have Gun Will Travel Indian Trouble
()

NM Better
NM
EXMT
EX
VGEX
VG
Good
Fair
--
--
--
3 in stock
$6.00/each
--
--
--
--

---

34
Yancy Derringer The Gambler
()

---

39
Yancy Derringer Yancy's Persuader
()

---

40
Yancy Derringer Yancy and Pahoo
()

NM Better
NM
EXMT
EX
VGEX
VG
Good
Fair
--
--
--
2 in stock
$6.00/each
--
--
--
--

---

42
Union Pacific Bart Takes Over
()

NM Better
NM
EXMT
EX
VGEX
VG
Good
Fair
--
--
--
--
1 in stock
$4.80/each
--
--
--

---

44
Union Pacific Gail and Bart
()

---

45
Union Pacific Bart's Problem
()

NM Better
NM
EXMT
EX
VGEX
VG
Good
Fair
--
--
--
1 in stock
$6.00/each
--
--
--
--

---

47
Wagon Train Robert Horton
()

NM Better
NM
EXMT
EX
VGEX
VG
Good
Fair
--
--
--
1 in stock
$6.00/each
--
--
--
--

---

48
Wagon Train The Warning
()

---

52
The Restless Gun John Payne
()

---

53
The Restless Gun On The Move
()

---

54
The Restless Gun Vint the Gunman
()

---

55
The Restless Gun The Fastest Gun
()

NM Better
NM
EXMT
EX
VGEX
VG
Good
Fair
--
--
--
3 in stock
$6.00/each
--
--
--
--

---

56
The Restless Gun Street Battle
()

NM Better
NM
EXMT
EX
VGEX
VG
Good
Fair
--
--
--
--
--
--
1 in stock
$2.40/each
--

---

57
Tales of Wells Fargo Dale Robertson
()

NM Better
NM
EXMT
EX
VGEX
VG
Good
Fair
--
--
--
--
--
1 in stock
$3.00/each
--
--

---

58
Tales of Wells Fargo Trouble Shooter
()

NM Better
NM
EXMT
EX
VGEX
VG
Good
Fair
--
--
--
1 in stock
$6.00/each
--
--
--
--

---

59
Tales of Wells Fargo Jim Senses Trouble
()

---

60
Tales of Wells Fargo Rugged Rider
()

---

61
Tales of Wells Fargo Protection Plan
()

NM Better
NM
EXMT
EX
VGEX
VG
Good
Fair
--
--
--
--
--
2 in stock
$3.60/each
--
--

---

62
Tales of Wells Fargo Alert for Action
()

---

63
Tales of Wells Fargo Garding the Gold
()

NM Better
NM
EXMT
EX
VGEX
VG
Good
Fair
--
--
--
--
2 in stock
$4.80/each
--
--
--

---

66
Boots & Saddles Luke Cummings
()

NM Better
NM
EXMT
EX
VGEX
VG
Good
Fair
--
--
--
--
--
1 in stock
$3.00/each
--
--

---

67
Boots & Saddles Apache Combat
()

---

70
The Californians Fight for Justice
()

---

71
The Californians Ready for a Job
()