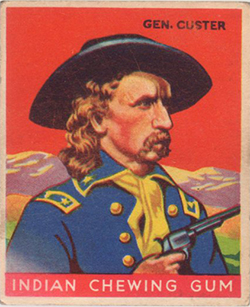 The 1933 Goudey Indian Gum set was issued over a period of years starting in 1933 up to 1940. There are 216 cards in the complete set and they were issued in several different skip-numbered series. The fronts feature beautiful color drawings of famous Indians, Western heroes, Historic events, Indian adventures, and daily Indian life activities along with a title and the words Indian Chewing Gum along the bottom. The backs have the card number along with descriptions and a line indicating the series. These cards can be found with series of 24, 48, 96, 192, 216, 264, 288, and 312. There are many different variations in the set depending on series or color variations. Some of the famous included in this set are Geronimo, Pontiac, Pocahontas, Sitting Bull, Tecumseh, Daniel Boone, Davy Crockett, General Custer, Buffalo Bill, Kit Carson, and many others! The cards measure 2-3/8" by 2-7/8" in size.



WE ARE BUYING BUYING BUYING!!

IMPORTANT INFORMATION ABOUT ORDERING, AND FAQ


RETURN TO THE NON-SPORTS PAGE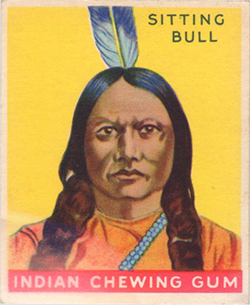 .
#
Description
Conditions

---

1
Chief of the Shienne Tribe
(series of 192)

NM Better
NM
EXMT
EX
VGEX
VG
Good
Fair
--
--
--
--
--
--
--
1 in stock
$3.00/each

---

21-48
Squaw and Child (Papoose)
(series of 48)

NM Better
NM
EXMT
EX
VGEX
VG
Good
Fair
--
--
--
--
--
--
--
1 in stock
$15.00/each

---

25
GERONIMO
(series of 96)

NM Better
NM
EXMT
EX
VGEX
VG
Good
Fair
--
--
--
--
--
--
2 in stock
$30.00/each
--

---

28
Pontiac
(series of 192)

NM Better
NM
EXMT
EX
VGEX
VG
Good
Fair
--
--
--
--
--
--
1 in stock
$8.00/each
--

---

29-192
Osceola
(series of 192)

---

30
King Phillip
(series of 192)

NM Better
NM
EXMT
EX
VGEX
VG
Good
Fair
--
--
--
--
--
1 in stock
$20.00/each
--
--

---

32-96
Massasoit
(series of 96)

NM Better
NM
EXMT
EX
VGEX
VG
Good
Fair
--
--
--
--
--
--
1 in stock
$20.00/each
--

---

37
BLACK HAWK
(series of 96)

NM Better
NM
EXMT
EX
VGEX
VG
Good
Fair
--
--
--
--
--
1 in stock
$20.00/each
--
--

---

38
SITTING BULL
(series of 96)

NM Better
NM
EXMT
EX
VGEX
VG
Good
Fair
--
--
--
--
--
--
1 in stock
$60.00/each
--

---

40
Dutchy
(series of 192)

---

42
Tecumseh
(series of 96)

---

43-96
american horse
(series of 96)

---

45
Satanta
(series of 192)

---

46
SPOTTED TAIL
(series of 96)

---

46 192
SPOTTED TAIL
(series of 192)

NM Better
NM
EXMT
EX
VGEX
VG
Good
Fair
--
--
--
--
--
--
1 in stock
$25.00/each
--

---

47
White-Man-Runs-Him
(series of 96)

---

55
Gen. Custer
(series of 96)

NM Better
NM
EXMT
EX
VGEX
VG
Good
Fair
--
--
--
--
--
1 in stock
$60.00/each
--
--

---

56
William Penn
(series of 96)

NM Better
NM
EXMT
EX
VGEX
VG
Good
Fair
--
--
--
--
--
--
1 in stock
$10.00/each
--

---

59
Wild Bill
(series of 96)

---

60
buffalo bill
(series of 96)

NM Better
NM
EXMT
EX
VGEX
VG
Good
Fair
--
--
--
--
--
--
1 in stock
$37.50/each
--

---

61
Sam Houston
(series of 96)

NM Better
NM
EXMT
EX
VGEX
VG
Good
Fair
--
--
--
--
--
--
1 in stock
$20.00/each
--

---

64
La Salle
(series of 96)

NM Better
NM
EXMT
EX
VGEX
VG
Good
Fair
--
--
--
--
1 in stock
$25.00/each
--
--
--

---

68
KIT CARSON
(series of 96)

NM Better
NM
EXMT
EX
VGEX
VG
Good
Fair
--
--
--
1 in stock
$50.00/each
--
--
--
--

---

82
Huichol Tribe
(series of 216)

NM Better
NM
EXMT
EX
VGEX
VG
Good
Fair
--
--
--
1 in stock
$45.00/each
--
--
--
--

---

85
Eagle Dance
(series of 216)

NM Better
NM
EXMT
EX
VGEX
VG
Good
Fair
--
--
--
--
1 in stock
$20.00/each
--
--
--

---

87
Kichai
(series of 216)

---

91
Vapor Bath
(series of 192)

NM Better
NM
EXMT
EX
VGEX
VG
Good
Fair
--
--
--
--
--
1 in stock
$16.00/each
--
--

---

98
Graining the Buffalo Skin
(series of 192)

---

100
Red Bear
(series of 192)

NM Better
NM
EXMT
EX
VGEX
VG
Good
Fair
--
--
--
--
1 in stock
$40.00/each
--
--
--

---

101
Andy Poe
(series of 192)

---

111
General Wm. S. Harney
(series of 192)

NM Better
NM
EXMT
EX
VGEX
VG
Good
Fair
--
--
--
--
--
1 in stock
$15.00/each
--
--

---

112
Captain Fremont
(series of 192)

NM Better
NM
EXMT
EX
VGEX
VG
Good
Fair
--
--
--
--
--
--
--
1 in stock
$14.00/each

---

114
In Consultation
(series of 192)

NM Better
NM
EXMT
EX
VGEX
VG
Good
Fair
--
--
--
--
--
1 in stock
$15.00/each
--
--

---

129
Weasel Calf
(series of 192)

NM Better
NM
EXMT
EX
VGEX
VG
Good
Fair
--
--
1 in stock
$50.00/each
--
--
--
--
--

---

143
Rain-in-the-Face
(series of 216)

NM Better
NM
EXMT
EX
VGEX
VG
Good
Fair
--
--
--
--
--
--
--
1 in stock
$22.00/each

---

151
Painting
(series of 216)

---

177
Struggle To Death
(series of 312)

NM Better
NM
EXMT
EX
VGEX
VG
Good
Fair
--
--
--
--
--
--
--
1 in stock
$15.00/each

---

180
Fight On The Precipice
(series of 312)

NM Better
NM
EXMT
EX
VGEX
VG
Good
Fair
--
--
--
--
--
1 in stock
$30.00/each
--
--

---

184
Vengeance
(series of 312)

NM Better
NM
EXMT
EX
VGEX
VG
Good
Fair
--
--
--
--
1 in stock
$40.00/each
--
--
--

---

189
Another Redskin Bites the Dust
(series of 312)

NM Better
NM
EXMT
EX
VGEX
VG
Good
Fair
--
--
--
--
1 in stock
$40.00/each
--
--
--

---

194
Indian Naval Warfare
(series of 312)

---

200
Shar-I-Tar-Ish
(series of 48)

NM Better
NM
EXMT
EX
VGEX
VG
Good
Fair
--
--
--
--
--
--
1 in stock
$12.00/each
--

---

216
Torturing Their Victims
(series of 312)

NM Better
NM
EXMT
EX
VGEX
VG
Good
Fair
--
--
--
--
--
--
--
1 in stock
$14.00/each