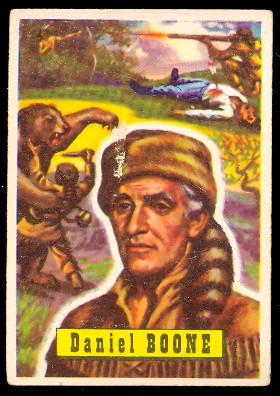 The 1956 Topps Roundup cards were based Western themes and frontier life and features ten Western Heroes! There are 80 cards in the set with 10 subsets including Wild Bill Hickok (#1-10), Calamity Jane (#11-20), Buffalo Bill (#21-30), Wyatt Earp (#31-40), Daniel Boone (#41-50), Jesse James (#51-60), Geronimo (#61-70), and Kit Carson (#71-80). The fronts have color photos and the backs have descriptive text. The cards measure 2-5-8" by 3-3/4".



WE ARE BUYING BUYING BUYING!!

IMPORTANT INFORMATION ABOUT ORDERING, AND FAQ


RETURN TO THE NON-SPORTS PAGE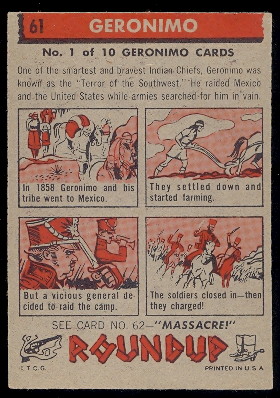 .
#
Description
Conditions

---

7
fighting fury
()

NM Better
NM
EXMT
EX
VGEX
VG
Good
Fair
--
--
--
--
--
1 in stock
$5.00/each
--
--

---

11
CALAMITY JANE
()

NM Better
NM
EXMT
EX
VGEX
VG
Good
Fair
--
--
--
1 in stock
$12.50/each
--
--
--
--

---

21
buffalo bill
()

NM Better
NM
EXMT
EX
VGEX
VG
Good
Fair
--
--
--
--
--
--
1 in stock
$6.00/each
--

---

22
Bullseye
()

NM Better
NM
EXMT
EX
VGEX
VG
Good
Fair
--
--
--
--
--
--
1 in stock
$4.00/each
--

---

25
Surprise Raid
()

NM Better
NM
EXMT
EX
VGEX
VG
Good
Fair
--
--
--
--
--
1 in stock
$5.00/each
--
--

---

26
Daring Jump
()

NM Better
NM
EXMT
EX
VGEX
VG
Good
Fair
--
--
--
--
1 in stock
$8.00/each
--
--
--

---

28
Taking Aim
()

NM Better
NM
EXMT
EX
VGEX
VG
Good
Fair
--
--
--
--
--
1 in stock
$6.00/each
--
--

---

29
Roaring Welcome
()

NM Better
NM
EXMT
EX
VGEX
VG
Good
Fair
--
--
--
--
--
1 in stock
$6.00/each
--
--

---

35
Wyatts Big Fight
()

NM Better
NM
EXMT
EX
VGEX
VG
Good
Fair
--
--
--
--
--
1 in stock
$6.00/each
--
--

---

37
Rustlers
()

NM Better
NM
EXMT
EX
VGEX
VG
Good
Fair
--
--
--
--
--
1 in stock
$5.00/each
--
--

---

42
Captured
()

NM Better
NM
EXMT
EX
VGEX
VG
Good
Fair
--
--
--
--
--
1 in stock
$6.00/each
--
--

---

60
sneak attack
()

NM Better
NM
EXMT
EX
VGEX
VG
Good
Fair
--
--
--
--
--
1 in stock
$6.00/each
--
--

---

62
Massacre
()

NM Better
NM
EXMT
EX
VGEX
VG
Good
Fair
--
--
--
--
--
1 in stock
$6.00/each
--
--

---

64
Double Crossed
()

NM Better
NM
EXMT
EX
VGEX
VG
Good
Fair
--
--
--
--
--
1 in stock
$5.00/each
--
--

---

67
Night Riders
()

NM Better
NM
EXMT
EX
VGEX
VG
Good
Fair
--
--
--
--
1 in stock
$8.00/each
--
--
--

---

68
Flaming Terror
()

NM Better
NM
EXMT
EX
VGEX
VG
Good
Fair
--
--
--
--
--
--
1 in stock
$5.00/each
--

---

73
Ambush
()

NM Better
NM
EXMT
EX
VGEX
VG
Good
Fair
--
--
--
--
--
1 in stock
$6.00/each
--
--

---

75
Perfect Shot
()

NM Better
NM
EXMT
EX
VGEX
VG
Good
Fair
--
--
--
--
--
--
1 in stock
$5.00/each
--